Will Madonna one day turn her hits into three-chord punk-rock blasts? Might Katy Perry relaunch "Firework" – or "I Kissed A Girl" – as a death-metal racket?
Anything's possible. After all, there's a long history of pop artists, especially in the twilight of their careers, shopping around for greater recognition of their artistry and dexterity by revamping their hits, generally in a more traditional, respected genre. It doesn't always work out as much more than a vanity project for the artist, but it mostly worked years ago for Cyndi Lauper, who offered bluegrass-tipped acoustic takes on her electro-pop hits. Much better was Simply Red's effort, turning its soul-pop into Latin jazz. Even more shockingly good, Erasure stripped and slowed down its electro-dance ditties to become veritable country jams.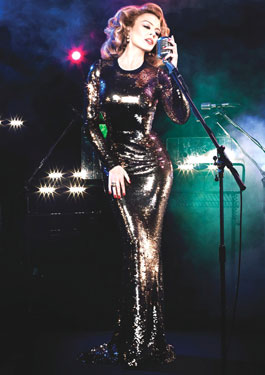 Kylie Minogue
Certainly, Kylie Minogue – though not exactly in her twilight at 44 – could use more recognition for her artistry and her voice, which is more sophisticated than suggested by her recordings, full of electronic manipulations that often nearly drown out her simple, girly vocalizations. In fact, I didn't fully appreciate Minogue's ability to truly carry a song by virtue of her voice alone until seeing her on tour.
Thankfully, The Abbey Road Sessions – recorded in the storied London studios famously used by The Beatles and Pink Floyd – offers testament to her talent. The set features revamps of 16 hits spanning her 25 years in the business, from "The Loco-Motion," the '60s-era giddy pop hit that she has now remade for a second, definitive time; to a frenzied, string-laden rendition of her biggest hit, the originally droll "Can't Get You Out of My Head." Minogue worked with her band and a 22-piece orchestra on many tracks on the set, which peaks right where it should, halfway through.
Minogue's 20-year-old minor hit, "Finer Feelings," has been reborn as a wistful, dramatic Arabic ballad, full of acutely expressed pain. Her paramour has smothered her with unchecked, obsessive affection that's ultimately selfish and unsatisfying. "Passion dies without some tender meanings," she sings. "It ain't love, without the finer feelings."
"Finer Feelings" is immediately followed by the equally exquisitely realized Arabic-flavored remake of "Confide In Me," an 18-year-old tune. But this time, Minogue's offering a truce, even a sly anthem for world peace. "We all get hurt by love, and we all have our cross to bear," goes her wonderfully evocative lyrics. "But in the name of understanding now, a problem should be shared."
This collection affirms both Minogue's underappreciated vocal talent as well as her skill – because, yes, it is a skill – in often choosing high-quality songs and sharp songwriters to work with. Just because she isn't principally a songwriter herself doesn't mean she doesn't know a work of musical art when she hears it.
Kylie Minogue
The Abbey Road Sessions
Parlophone/EMI
$9.99




There are plenty of other gems on The Abbey Road Sessions, including a sophisticated, countrified version of early hit "Hand On Your Heart," which would fit right in on ABC's Nashville. The set ends in dramatic fashion, with her high-torch song remake of 1989's "Never Too Late." While not as stunning as most of the best tracks here, by this point if there still remains a listener – especially gay – skeptical of Minogue's artistry, it actually is too late to change his mind. He's already music-dead.
DOWNLOAD THESE: "Confide In Me," "Finer Feelings," "Come Into My World"