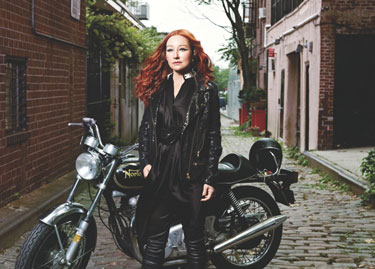 Tori Amos
(Photo by Danielle Levitt)
YOU CAN ADD TORI AMOS to the list of artists who've revamped hits in a new genre – specifically, classical, or classical crossover. Amos tapped the Metropole Orchestra to rework a selection of 14 hits spanning a 20-year career, including "Precious Things," "Winter" and "Yes, Anastasia," which kicks things off in high orchestra style.
Anyone who caught Amos's amazing performance live at DAR Constitution Hall last year performing with the string quartet Apollon Musagète will not be the least bit surprised by this set. In many ways, though obviously fuller in sound and more studied in execution, Gold Dust could serve as a souvenir to concertgoers, a memory of a great show, because Gold Dust is a great collection.
Tori Amos
Gold Dust
Duetsche Grammophon
$15.49




1/2
Naturally, it's not as transformative as Minogue's effort, or most other pop artists' besides. Amos, weaned on classical music as a mere toddler, has always incorporated classical flourishes into her bed of eccentric, dramatic piano pop – nothing new about that. Still, you sense that she really threw herself into this project, fully considering every little detail. Any fan of Amos will relish listening for even the most minor of alterations. For example, "Silent All These Years" finds Amos with a slightly lighter touch on the piano, while the orchestra adds subtle, sweet embellishments – making the song's message that much stronger. And do you hear the faint notes from an oboe in the chorus of "Jackie's Strength"? It fulfills Amos's lyrical demand: "Make me laugh." It's ever so delightful.
DOWNLOAD THESE: "Yes, Anastasia," "Jackie's Strength," "Silent All These Years"