In the months-long campaigns for and against Question 6, the measure that would allow Maryland's marriage equality law to take effect, both sides have targeted various demographics, particularly rural voters and African-American voters. In these few days ahead of the Nov. 6 vote, however, special attention is now being aimed at Catholic voters and women voters.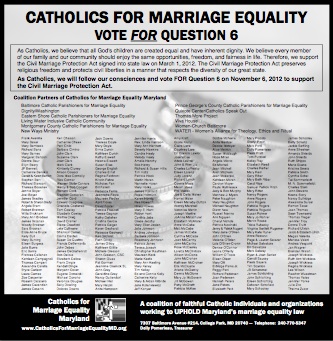 Catholics for Marriage Equality, for example, a coalition of Maryland Catholic groups, plans to take out a half-page ad in The Baltimore Sun tomorrow, Nov. 2, to urge their fellow adherents to vote for Question 6.
The ad reads: "As Catholics, we believe that all God's children are created equal and have inherent dignity. We believe every member of our family and our community should enjoy the same opportunities, freedom, and fairness in life. Therefore, we support the Civil Marriage Protection Act signed into state law on March 1, 2012. The Civil Marriage Protection Act preserves religious freedom and protects civil liberties in a manner that respects the diversity of our great state.
"As Catholics, we will follow our consciences and vote FOR Question 6 on November 6, 2012 to support the Civil Marriage Protection Act."
The ad lists the organizations that are coalition partners and the names of more than 330 Catholics who support the coalition's efforts.
"Catholic lay people in Maryland are voting their consciences to make sure that our state's laws treat all people equally and fairly, and that all families in Maryland are strengthened and protected," said Francis DeBernardo, a spokesman for the coalition and the executive director of New Ways Ministry, a coalition partner, in a statement announcing the ad.
The statement also quoted Ryan Sattler, one of the ad's signatories: "While we respect our church's leaders, we disagree with them about this issue of public policy. Our Catholic faith impels us to work for justice and dignity for all people, and supporting marriage equality is the right way to secure those values, and that is why as Catholics we are proud to be voting for Question 6."
Catholic outreach has become especially important as several Catholic bishops around the country have ordered parish priests to advise their congregations to vote against candidates who support same-sex marriage, or, in states like Maryland facing ballot measures, to vote against marriage equality.
One Catholic priest in Baltimore, Father Richard Lawrence of St. Vincent DePaul Parish, used his Oct. 28 sermon to urge his congregation to think and pray over Question 6 and vote in accordance with their consciences, according to the National Catholic Reporter. He received a standing ovation for his sermon, though it somewhat contradicted a letter from Baltimore Archbishop William Lori, read by Lawrence to the congregation, urging Catholics to vote against Question 6.
Supporters of marriage equality have also emphasized the importance of having one-on-one conversations with family, friends and neighbors to convince them of the importance of voting in favor of Question 6. In that vein, Marylanders for Marriage Equality, the primary coalition seeking to uphold the marriage-equality law, held a press conference of "Moms from Montgomery County" in Silver Spring today to highlight several local mothers and their reasons for supporting Question 6.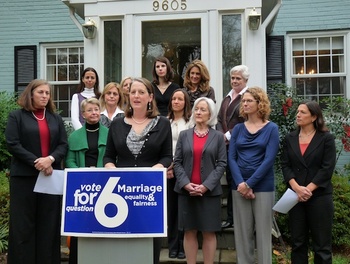 "I'm a lifelong Christian who supports Question 6," Jane Meier, a marketing consultant and mother of two, said at the press conference, according to release from Marylanders for Marriage Equality. "I've made a career in marketing here in Montgomery County. I'm also a mom and proud to be with other great moms for marriage equality. We're standing up for equality and fairness."
"I will be voting for Question 6 on Friday because I want my kids to grow up in a state where everybody has the same opportunity to marry and everyone is treated fairly under the law," said Michelle Russo, who works at a major television organization.
The pro-Question 6 campaign needs to run up large margins of victory in areas like Montgomery County's Silver Spring, a politically liberal stronghold, if they are to be successful statewide. Most polling on same-sex marriage, in Maryland and nationally, shows a gender gap, with women being more amenable to recognizing same-sex relationships. A recent Baltimore Sun poll, which found marriage-equality opponents a point ahead of supporters, found that a majority of women supported allowing gay and lesbian couples to marry.
[Image: Jane Meier, of Montgomery County, speaks at a Silver Spring press conference of her support for Question 6. Courtesy of: Marylanders for Marriage Equality.]