Halloween night, 1986, a handful of drag queens made an impromptu bet that found them racing down 17th Street NW in pumps, wigs and all the rest. And with that, D.C.'s infamous High Heel Race was born – first taking place on subsequent Halloweens, but later changing to the Tuesday prior in order not to add to Halloween's commotion. The race, after all, delivers plenty of commotion all its own.
The race continued in this uninterrupted fashion for 25 years. Then came Sandy.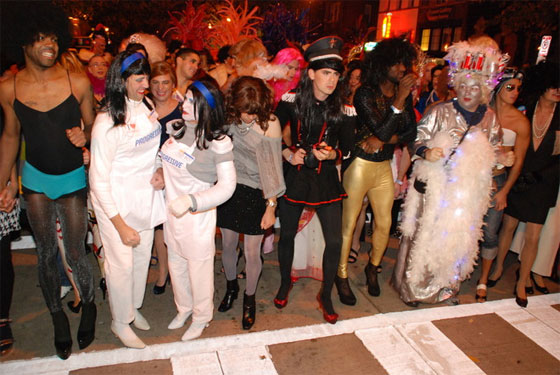 2012 High Heel Race participants ready for the 9 o'oclock run down 17th Street
(Photo by Ward Morrison)
"It's normally rain or shine, no matter what," says Dave Perruzza, manager of JR.'s Bar & Grill, the de facto headquarters of the race that remains, technically, an orphan with no formal ownership. "We've done it in the rain before – but we've never had a hurricane."
Perruzza, who voluntarily takes the lead on organizing the whole affair, as he's done for years, knew that 2012 might be the year that finally got the better of the High Heel Race. Maybe those doomsday Mayans were on to something after all.
"I found out Monday night we couldn't do it," he says, explaining that the Metropolitan Police Department was laying out what Hurricane Sandy could mean for the race. For JR.'s, it meant that this particular Monday, Oct. 29, featured a Sandy-heavy, Grease-themed "Showtunes Monday." For the race, it meant no dice.
"The Police Department called and said they couldn't guarantee it," Perruzza continues. "Everything was scattered. No one could supply the manpower. And if trees came down anywhere on the route, we couldn't have the race."
And so the word went out that Monday night: The 26th anniversary High Heel Race would mark the first postponement in its illustrious history. It would not, however, mark any disaster beyond the hurricane itself. The race would go on a day after Halloween rather than a day prior, thanks to a supportive city.
"The mayor's office and everyone was sending out emails at midnight," Perruzza says of the Monday night effort to get the event moved to Nov. 1. "The permit office came through, the police…. They were all definitely working overtime to make this event happen."
Perruzza reckons that the Thursday night crowd may have even been somewhat bolstered by Hurricane Sandy's blustery run through Washington.
"We had a ton of people there," he says. "People were so stuck inside that by Thursday they wanted something to do – something fun and happy. They needed something to enjoy."
The only low point of Thursday's race – at least for Perruzza – was a dearth of Hurricane Sandy-inspired race entries.
"We didn't get any Sandys at the race," he laments. "Not one. At least, I didn't see one. I was very disappointed."
The race did, however, get a winner. That honor went to William Dennis.