Although the DC Eagle is expected to someday soon move out of the building it has called home since 1987, there is still plenty of time for an anniversary party – 41 and counting.
To get the ball rolling, the Thursday, Nov. 15, "blackout party" sets the tone. Like so much else at the Eagle, it's a matter of tradition.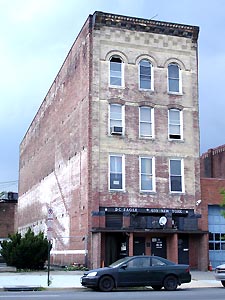 The D.C. Eagle
(File photo by Todd Franson)
"It started 38 years ago when the electricity actually went out," explains Peter Lloyd, today one the bar's owners. Employees asked the first DC Eagle owner if the power outage should force the bar to close. "Don Bruce was like, 'Fuck no! Break out the candles and flashlights." The anniversary blackouts have continued, although – to Lloyd's dismay – these planned events are more a dimming than utter darkness, with exit lights remaining illuminated, the electric registers still running, and business as usual on the first floor. There is incentive to dress appropriately: A DC Eagle T-shirt is worth a $2 bar discount on either floor.
Come Friday, don't bother with the T-shirt. Instead, enjoy the open bar from 8 to 10 p.m. Friday is also the bar's annual pin night, with the much-guarded pin of the new DC Eagle logo – designed by famed erotic artist REX – raring to make its debut. Friday also sees the Eagle Wings charity auction starting around 11 p.m., benefiting D.C.'s Joseph's House hospice and the Wayne Nesbitt Fund of the Duke Ellington School of the Arts, named for the late Nesbitt, Mr. DC Eagle 1997-'98.