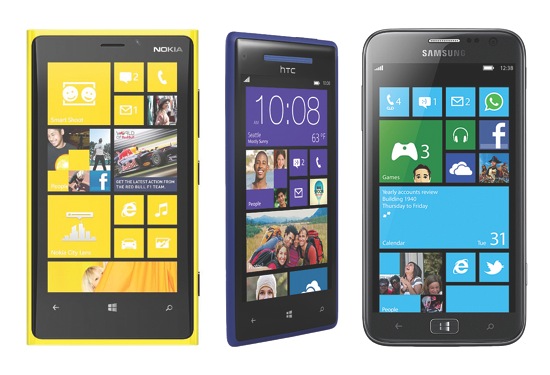 You may not have realized it but the just-released Windows 8 has a sister — and its name is Windows RT. What's in a name? Quite a lot, actually. Windows RT realizes a long-held goal to enable Windows to run on ARM architecture — the type of processors that power almost every major smartphone and tablet. The efficiency of the ARM architecture in powering mobile devices is key to Microsoft's aim to spread Windows not just in the desktop and laptop markets, but into low-power tablets as well.
Essentially, Windows 8 and Windows RT are the same. They share the same core, most of the same features, and both will run the new start screen, desktop and Windows 8 apps. The key difference is Windows RT relies solely on the Windows 8 store for its content — the ARM processors cannot run any legacy program designed just for traditional, or x86, Windows computers. Users can't download and install programs, such as Google Chrome, from the Web, and can't install software from discs. All usable programs will need to be downloaded from Microsoft's store instead. However, given its focus on tablet hardware, whose users are accustomed to app stores and download-only programs, this fact should be perfectly acceptable.
Indeed, Microsoft decided the best way to display Windows RT would be to design and launch its own hardware to run it. In a first for the company, it has ignored its traditional stance as a software-only partner to OEMs and, on Oct. 26, released the Surface tablet. A slim, 1.5 pound, all-metal device, constructed from a liquid magnesium process called VaporMg by Microsoft, the Surface was designed to show Microsoft's hardware partners what they expected from Windows tablets. It was to dispel notions of Windows tablets of old, with their styluses, sad battery life, bloated design and poor usability, and to dissuade OEMs from simply rehashing Android tablets as Windows RT devices — something ASUS can be accused of with its upcoming Vivo Tab.
With a 1366×768 10.6-inch ClearType HD display, coated in tough Gorilla Glass, front and rear HD cameras, two microphones, expandable storage using SDXC cards, stereo speakers, a quad-core Tegra 3 CPU (similar to those found in Android smartphones and tablets) clocked at 1.3 GHz, nine hours of battery life and a built-in kickstand than spans the full width of the tablet, Microsoft should be proud of what they have produced. It's a beautiful device, and Windows RT looks gorgeous on the bright, clear display. It's no Retina Display, but it's among the best available on a tablet, and the build quality is comparable with the iPad, which is high praise indeed. Microsoft has also developed the Touch Cover and Type Covers. The first is a 3mm-thick cover that connects magnetically to the bottom of the device, and features a full-capacitive keyboard, which Microsoft claims replicates a normal keyboard without adding any bulk to the device. The Type Cover is 6mm thick, and features a full keyboard with physical keys. Both feature sensors that know when they are folded behind the device, preventing accidental key presses, and have tough, fleece-like exteriors to keep the device safe. Both are impressive engineering feats.
The Surface costs $499 for the 32GB tablet, or $599 with a black Touch Cover; 64GB of storage will cost you $699. There's no 3G or LTE available, it's Wi-Fi only, and prices are comparable to the iPad. Touch Cover is available in five hues, for $119.99, with the Type available in black for $129.99. Microsoft has pop-up stores appearing nationwide for the Surface launch, as it is only available directly from them in-store or online, though in-store is the safest bet as all online pre-orders sold out, leaving new purchasers waiting three weeks for the next batch.
Windows Phone, meanwhile, is the relative underdog of the smartphone world. Launched by Microsoft in 2010, it has struggled to gain a strong foothold, despite critical acclaim, well-received updates and several attractive pieces of hardware. Android is the all-conquering king, and iPhones continue to attract millions each year, though with RIM continuing its long, slow slide into insignificance, the time is ripe for Windows Phone to achieve something more than single-digit market share. Enter in this year's update to the OS, Windows Phone 8, and with it the greatest emphasis on hardware that Microsoft has given since launching it over two years ago.
Windows Phones have been praised for their usability, with a slick, fast UI that is consistent across every device that runs it. Microsoft enabled this through a strict set of hardware requirements — all phones had to have the same type of processor, the same screen resolution, the same number of buttons and each had to offer at least the minimum set amount of RAM, camera resolution and screen size. It kept the experience consistent, but it also gave handset makers little room to play with. The first batch of Windows Phones were slick and attractive, but, in comparison to their Android cousins, they lacked wow factor.
That changes with Windows Phone 8. Gone is the restriction to single core processors, gone is the set WVGA screen resolution, gone are the misconceptions that Windows Phones are somewhat inferior to their smartphone contemporaries.
Nokia carries a lot of the thanks for this, with its Lumia devices invigorating a line-up of phones that were close to being stagnant. Bold design, vibrant colours, and an overall appearance that was refreshingly nonconformist. This design language, the bright colors and polycarbonate shell have set the groundwork for Windows Phone 8. The redesigned home screen, with three sizes of Live Tiles, allows for greater customization by the user, and is complemented by new colors and themes to further add to the visual nature of each device. Microsoft is pushing Windows Phone as fun and personal, indeed they say it's the "most personal smartphone there is." Android phones would beg to differ here, but it's hard to argue that the color and variety on offer is eye-catching, certainly more so than the average Android or iPhone, where black and white is the norm.
There are three distinct flagships in the crop of release devices — the HTC 8X, Nokia Lumia 920 and the Samsung ATIV S. Each differs in its own way, offering a compelling choice. The HTC features the same polycarbonate shell as the Lumia, available in black, neon green, a deep purple-blue and red; has an 8MP camera; Beats Audio; an ultra-wide, front-facing camera for group shots; and a 4.3-inch 1280×720 Gorilla Glass 2 display. The Lumia 920 offers a choice of black, white, red or neon yellow polycarbonate; a 4.5-inch 1280×768 PureMotion HD+; Gorilla Glass display with a 60Hz refresh rate and super-sensitive touch; an 8.7MP camera with active Optical Image Stabilization and PureView technology; and wireless charging. Samsung's ATIV S is essentially a Galaxy S3 in Windows clothing, but that's hardly a complaint, bringing a faux-brushed metal finish, a 4.8-inch, 1280×720 HD Super AMOLED display coated in Gorilla Glass, a slender 8.7mm waist, a 2,300 mAh battery to power that big screen, an 8MP camera, and microSD support for expandable storage — a first for Windows Phone, which now supports it. All three feature NFC, 1.5GHz dual-core processors, and the usual array of sensors.
Windows Phone 8 brings other features, such as a built-in Wallet app; NFC support for mobile payments; Skype built-in to the OS; Rooms that allow for the sharing of private conversations and images with a selected group of people; Data Sense to help those with capped data limits; Kid's Corner, which allows parents to choose apps, music and photos that they want their child to see, without giving them access to emails, calls or other sensitive data, in a specially-selectable place on their phone — though it can also double as a guest feature should you wish to share your phone, but not your personal data, with a friend. Really, though, it's the hardware that will sell Windows Phone 8 to consumers, and, backed with an increased marketing push by Microsoft, it really stands a chance this time around. No longer are the devices standing in the shadow of their Android brethren — indeed, the ATIV S is the only device that looks as if Samsung designed a high-end Android phone and then put Windows Phone in it, but that's hardly a scathing criticism.
If Microsoft can keep Windows Phones competitive, specs-wise, and keep hardware partners putting out eye-catching, desirable handsets, maybe, just maybe we might see consumers finally coming around to the world of Windows Phone. It's a tough sell, though, given how entrenched people are in Google's and Apple's ecosystems, but it'd be unwise to count Microsoft out just yet.
Windows 8, Windows RT, Microsoft Surface, Windows Phone 8 — Microsoft's united ecosystem of devices, all running Windows, all touch enabled, all working in harmony. It's Microsoft's vision for the future, and one which, like it or not, we're all going to end up being a part of. Microsoft is too important to fail and, at least with Windows 8 and Windows Phone 8, it's given itself plenty of reason not to.