OCTOBER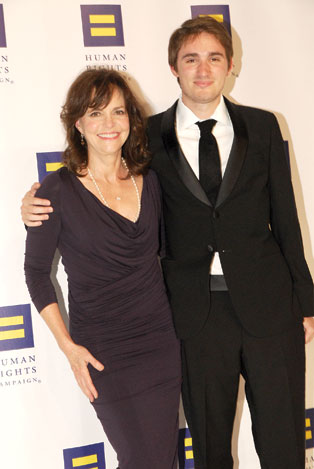 Sally Field and her son Sam
(Photo by Ward Morrison)
The anti-gay Liberty Counsel wasted no time in filing suit against California's "ex-gay" ban, with Mat Staver, chairman of the organization saying, "This law forces clients to receive and counselors to provide only one viewpoint on the subject of same-sex attractions." Meanwhile, House Republicans were taking some heat for their Bipartisan Legal Advisory Group effort to defend DOMA, as the legal bills neared the $1.5 million mark. Few knew the GOP leadership had already cleared the BLAG back in September to spend up to $2 million fighting marriage equality.
Marriage aside, October was mostly a time for honoring leaders in the fight for LGBT equality. At the HRC National Dinner at the Walter E. Washington Convention Center Oct. 6, Sally Field brought 3,000 attendees to their feet when she said, "You've changed and are changing the lives of little boys and girls who realize somewhere along the way they're just different from their other brothers and sisters. And so the fuck what?" The Rainbow History Project honored 14 new "Community Pioneers" at an Oct. 4 reception. At an Oct. 12 soiree, The DC Center recognized Michele Zavos, Joseph Palacios and Ron Simmons, while Simmons in turn had to head his organization's – Us Helping Us, People Into Living Inc. – fall fundraiser and awards the next night. Team DC awarded thousands of dollars to six new scholars, and the Gertrude Stein Democratic Club honored six diehard activists, as well as Marylanders for Marriage Equality, at the club's 36th Anniversary Leadership Awards.
Making it a month of transition, the D.C.-based International Federation of Black Prides announced Oct. 12 that it was expanding its scope and becoming the Center for Black Equity. And the organizations OutServe and Servicemembers Legal Defense Network announced just before their merging at the end of October that the leader of the combined organization would be Allyson Robinson. An Army veteran and West Point graduate, Robinson would become the first transgender leader of a national LGBT organization.
And while "Superstorm Sandy" managed to postpone the 26th Annual High Heel Race, planned for Oct. 30, the costumed throngs took to the streets undeterred Nov. 1.