MAY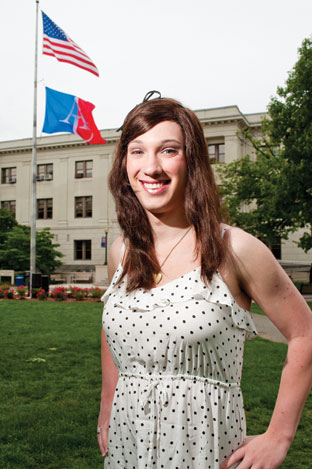 Sarah McBride at American University
(Photo by Todd Franson/File photo)
Sarah McBride marked May Day in a big way. Known as Tim McBride as she served as American University Student Government president, she ended that service April 30, then came out as a transgender woman in the May 1 issue of The Eagle, AU's student newspaper.
Vice President Joe Biden also made a splash in May. On the May 6 episode of NBC's Meet the Press, Biden came out unequivocally in support of marriage equality, telling host David Gregory, "I am absolutely comfortable with the fact that men marrying men, women marrying women and heterosexual men and women marrying one another are entitled to the same exact rights. All the civil rights, all the civil liberties." President Barack Obama followed suit May 9 during an ABC News interview with Robin Roberts. Come May 19, the board of directors of the National Association for the Advancement of Colored People (NAACP) endorsed the right of same-sex couples to marry. CNN aired a clip of retired Gen. Colin Powell supporting marriage equality May 23. In May, two federal courts also ruled against the so-called Defense of Marriage Act (DOMA).
Thankfully, there was no bombshell, but merely a bomb threat when California authorities warned the Metropolitan Police Department May 15 that an anonymous call had come in with the threat against a "national gay-rights organization," prompting the evacuation of the Human Rights Campaign headquarters and other major LGBT organizations in D.C.
Unfortunately, North Carolina voters delivered actual damage May 8, passing Amendment 1, which forced a definition of marriage as one man and one woman alone in the state constitution. Adding to May 8's bad news, famed children's author and artist Maurice Sendak, who was gay, died of complications related to a stroke. He was 83.
The community showed some more pride in May, with Capital TransPride moving from June to May 7 in order to not conflict with the Philadelphia Trans-Health Conference. DC Black Pride celebrated, as usual, during the Memorial Day Weekend, marking the 22nd anniversary with a theme of "It's A Family Affair."
Metro Weekly's Next Generation Awards marked a fourth year of honoring dynamic young LGBT people in the D.C. community, with awards going to Christopher Barnhill, Imay Ho, Terra Tempest Moore and David M. Pérez at a May 3 celebration.