JULY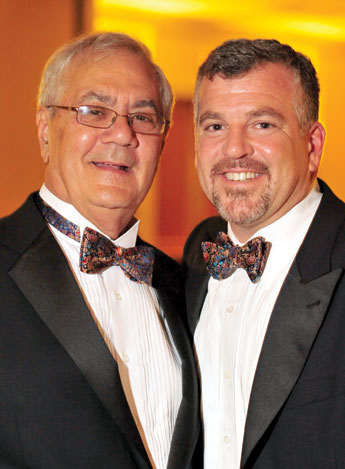 Barney Frank and his new husband, Jim
The tragedy of Montano was immediately followed July 1, when Tim Lipka, a popular member of the DC Gay Flag Football League who was very active in the community, died of a heart attack. He was 25. Lipka's death wasn't the only loss for the community in July. David Chung, a well-known bartender at Nellie's Sports Bar also died in early July, though the cause was not released. Chung was 26.
The Gay Men's Health Summit and the Global Forum on MSM and HIV set the stage for the XIX International AIDS Conference, which brought tens of thousands from around the globe to D.C. Whitman-Walker Health used the conference to "Return to Lisner," remembering the District's first forum regarding HIV/AIDS, held in 1983 at George Washington University's Lisner Auditorium. The warning from the Black AIDS Institute's Phill Wilson and others, however, was rooted in the now. At a July 18 press conference in D.C., they released a report, "Back of the Line: The State of AIDS Among Black Gay Men in 2012," showing this population to be the hardest hit in the developed world.
There was more bad news in July as a gay couple was attacked in D.C.'s Eckington neighborhood. And a secret committee of the Boy Scouts of America voted to maintain the ban on gay members and leaders.
But July had some very bright spots, as well. The National Queer Asian Pacific Islander Alliance held a successful annual conference in D.C. The District of Columbia Aquatics Club (DCAC) raised nearly $40,000 dollars for Metro TeenAIDS and other groups at the 21st Annual Maryland Swim for Life event. The National Lesbian & Gay Journalists Association honored Metro Weekly's former senior political writer, Chris Geidner, with the Sarah Pettit LGBT Journalist of the Year Award, and co-publisher and editorial director Sean Bugg with the second-place award for excellence in opinion writing. And Rep. Barney Frank and Jim Ready tied the knot in Massachusetts.