Now you see them, now you don't.
One of the hottest trends in business, from corporate giants to sole proprietorships, is "pop-up retail."
Also known as "flash retail" – akin to the flash mobs that materialize out of nowhere, dance a tightly choreographed homage to the "Thriller" video, then disappear into the food court – it's a relatively simple, yet often surprisingly effective, concept.
The Capital Area Gay & Lesbian Chamber of Commerce (CAGLCC) heard the buzz – amplified by the District of Columbia's two-year-old Temporary Urbanism Initiative, which has awarded grants to support "temporiums" (temporary emporiums) that attracted thousands of visitors to vacant storefronts.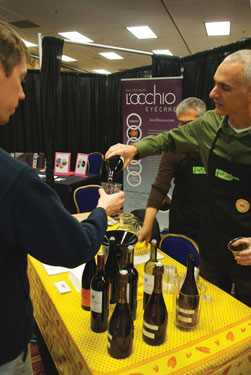 Wine tasting with First Vine was one of many g.life highlights
(Photo by Sean Bugg)
That program helped inspire CAGLCC to mount its first-ever "g.life: One Day in DC, All Things LGBT," which was held Nov. 17 at the Washington Marriott Wardman Park Hotel.
Mark Guenther, CAGLCC's executive director, described it as a "pop-up metropolis," a place people can stroll "avenues" lined with businesses offering goods and services. It also featured "street performers," as well as seminars and workshops under the rubric of "g.life U."
"Pop-up retail is more than just a hot trend. It's a way to expose your business to new customers without much new overhead," Guenther said. "Especially in the LGBT community, known for its brand loyalty, reaching this many new, potential long-term customers would take thousands of dollars in conventional advertising channels."
Judging by the reactions of some of g.life's 70 exhibitors, many of the estimated 2,000 attendees were indeed reached.
"My first-time experience as a vendor at the g.life convention was super positive," said financial advisor Michele L. Pennypacker. "My partner Tony and I talked almost all day long with very qualified individuals who were very interested in building wealth and planning for retirement."
The pop-up approach owes its increasing ubiquity to a perfect storm: a harsh economy that has driven an urgent kind of business Darwinism; a real-estate and credit crunch that has spawned legions of desperate landlords who want to fill vacant commercial properties, even for brief periods; and the rise of new Internet tools that can reach customers, practically at a moment's notice.
For those able to afford a permanent, physical space, pop-ups can be a crucial way to stand out from the crowd. For others, moving from place to place can be a key to their very survival.
Tom Natan of First Vine Wine Imports and Sales said the pop-up model was tailor-made for his business.
"We do best when we can talk to the customer about the product we're selling, directly," he said. "People like to talk about their wine. They like to know who the wine is made by. The personal touch always helps."