Heard the rumor about local drag legend Ella Fitzgerald appearing on RuPaul's Drag Race? "Why in the hell?" retorts Fitzgerald. "No, baby, that's for the younger generation," she continues, joking that she'd only do the show, "If they have one for the senior citizens."
Instead, Fitzgerald is content to simply reign as the doyenne of D.C. drag, performing at least monthly at Freddie's Beach Bar and every Saturday and holiday Sundays at Ziegfeld's. She's also happy to welcome Drag Race-rs to her shows. In particular, the "First Lady of Ziegfeld's" is thrilled to welcome back Coco Montrese to the Southwest D.C. drag destination – years after Montrese appeared there regularly as Miss Gay America 2010.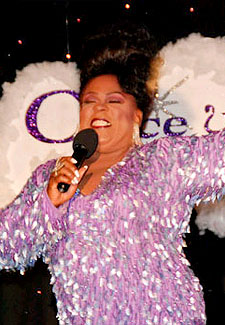 Ella Fitzgerald performing at Ziegfeld's
(Photo by Ward Morrison)
"Oh, absolutely, I love Coco," gushes Fitzgerald, sounding a bit like a proud drag mother. "Coco's a fabulous entertainer, great personality, really sweet." Adds Jon Parks, manager of Ziegfeld's: "When a bitch will Krazy Glue her nose to give the illusion of Janet Jackson, that is a professional. And that is Coco Montrese."
Montrese is the special guest at Ziegfeld's this Saturday, Dec. 22, as part of the venue's popular Annual Holiday Show. Parks and his queens were working out the details of the show when reached earlier this week. At that time, he was still consumed by last Friday's mass killing in Newtown, Conn.
"Connecticut really destroyed me, those children…. And then these families, their lives are gone," Parks said. Last weekend, Parks corralled three former Miss Ziegfeld's to perform a tribute that raised over $1,000, which Ziegfeld's owner Allen Carroll told Parks he'd match. Parks plans to give the money to the fire department in Newtown, which "took everybody in and shielded them from [the press]. They protected those people so beautifully.
"We're just wishing everybody a healthy and peaceful holiday from the Ziegfeld's and Secrets family," he added.
Certainly at the holiday show Fitzgerald will perform Stacy Lattisaw's "Let Me Be Your Angel," something she's been doing for 27 years. Fitzgerald will be all dolled up in an angel costume that takes time to clean. "It's all white!" she exclaims.
Of course, Fitzgerald will also serve as the show's emcee. She's done the deed for the past four years in Ziegfeld's present location and a whopping 30 times since starting work for Carroll in 1980 at the original Southeast location, now part of the Nationals Park complex.
Not that Fitzgerald is keeping track.
"It's been so long I can't even remember," she says. Still, Fitzgerald, who cuts hair on weekdays, laughs at the thought of retiring. "[People ask] 'When are you going to retire?' I'm like, 'I guess when Joan Rivers does! Or Bette Midler. I'm waiting for them to retire."
The Annual Holiday Show with Ella and Coco is Saturday, Dec. 22, at Ziegfeld's, 1024 Half St. SW. Call 202-863-0607 or visit ziegfelds.com.