Politics as usual came to a standstill for many in Washington today after a horrific shooting at an elementary school in Connecticut.
Police in Newton, Conn., confirm that 27 were killed this morning, including 20 children, six adults and the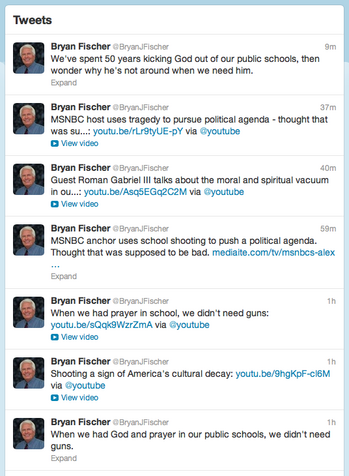 shooter. Reports indicate the shooting occurred shortly after 9:30 a.m. at Sandy Hook Elementary School.
According to the Associated Press, the shooting appears to be the second-deadliest school shooting in the nation's history. The most deadly occurred at Virginia Tech in 2007, leaving 32 people and the gunman dead. The shooter's motivation remains unclear.
Despite the somber tone in Washington, some sought to credit secular culture for the violence in Connecticut. Bryan Fischer of the anti-gay American Family Association took to Twitter to blame the shooting on "America's cultural decay."
"When we had God and prayer in our public schools, we didn't need guns," Fischer tweeted, adding, "We've spent 50 years kicking God out of our public schools, then wonder why he's not around when we need him."
During an appearance on Fox News, former Arkansas governor and Republican candidate for president Mike Huckabee attributed a lack of faith in God to today's violence.
"We ask why there's violence in our schools, but we've systematically removed God from our schools," Huckabee said. "Should we be so surprised that schools would become a place of carnage because we've made it a place where we don't want to talk about eternity, life, what responsibility means, accountability?"
During remarks this afternoon, a teary-eyed President Barack Obama struck a different tone, pausing several times to regain his composure.
"We've endured too many of these tragedies in these past few years and each time I learn the news I react not as a president but as anyone else would as a parent and that was especially true today," Obama said Friday afternoon from the James S. Brady Press Briefing Room at the White House, which was renamed in 2000 for the press secretary wounded during the assassination attempt on President Ronald Reagan in 1981.
Human Rights Campaign President Chad Griffin joined in expressing condolences to the victims and their families in a statement released Friday.
"The entire HRC family mourns today's horrific tragedy in Newtown," Griffin said. "We extend condolences, thoughts and prayers to the families of the victims as well as to the entire state of Connecticut which is still reeling from this senseless act violence. We note with sadness that it was less than a week since two innocent lives were lost at a mall in Oregon, and we offer our well-wishes and support to law enforcement officials investigating these truly heinous crimes."
Although Obama did not address gun control during his remarks, he hinted at the possibility of legislative action, stating, "We're going to have to come together and take meaningful action to prevent more tragedies like this, regardless of the politics."
WATCH Obama's full remarks here: