"Elizabethan London and contemporary Washington, D.C., probably have more in common than any two other cities," says Ethan McSweeny. It's because of that link that McSweeny thinks "Washingtonians sort-of instinctually get Shakespeare."
McSweeny is certainly well-versed on the subject. A born and bred Washingtonian, McSweeny got hooked early on Shakespeare – and theater in general – with regular visits to see productions at the Shakespeare Theatre Company, the Kennedy Center, Folger Shakespeare Library and the Sylvan Theater on the National Mall. He also started performing in school productions.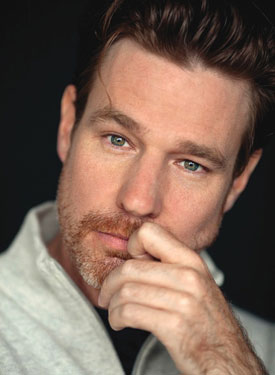 Ethan McSweeny
(Photo by courtesy of the Shakespeare Theatre Company)
"I went to college thinking I was going to stop doing theater and major in political science and, I don't know, become a journalist or a lawyer," says McSweeny. Instead, he discovered the craft of stage directing while at Columbia University. He's never looked back. His first job after college was as an assistant director at D.C.'s Shakespeare Theatre Company (STC).
Now a longtime resident of Brooklyn, McSweeny has gone on to direct newer classics by Gore Vidal and Edward Albee, both on Broadway and Off-Broadway as well as at venerated theaters in the D.C. and Baltimore region, including Arena Stage and Signature Theatre. But McSweeny is always happy to return to Shakespeare. "A Shakespeare play challenges all aspects of your craft as a director," he says. "Your creativity, your technical and design side, and just your sheer organizational skill."
That's certainly true of A Midsummer Night's Dream, one of the Bard's most popular and most beloved comedies. "Midsummer is a play that celebrates live theater," he says, "and the kind of experience you can only have when you are sitting in an audience of people simultaneously experiencing that play on that given day."
For his sixth production for STC, McSweeny worked with set designer Lee Savage to create essentially a three-ring circus in and around a derelict theater. The glow from a magical forest beckons in the background as lovers and politicians, bumbling stage actors, and – last but certainly not least – fairies all romp around, in increasingly overlapping shenanigans.
"[Our] fairies are playful and impish," McSweeny says. "The fairies emerge literally from the floorboards of the theater… and they swing from chandeliers."
He jokes: "We've got the best chandelier-swingers in the business right now."
A Midsummer Night's Dream runs to Dec. 30 at Sidney Harman Hall, Harman Center for the Arts, 610 F St. NW. Tickets are $43 to $105. Call 202-547-1122 or visit shakespearetheatre.org.