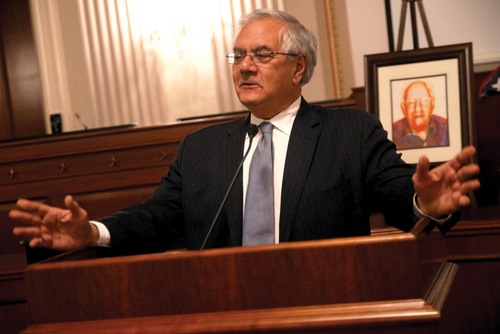 Outgoing Rep. Barney Frank today announced his strong opposition to former Sen. Chuck Hagel's reported consideration as the next secretary of defense.
In a highly charged statement released Monday afternoon, the Massachusetts Democrat accused Hagel of a history of anti-gay votes during his tenure as the Republican senator from Nebraska and dismissed his recent apology for anti-gay remarks made in 1998.
"Then-Senator Hagel's aggressively bigoted opposition to President Clinton's naming the first openly gay Ambassador in U.S. history was not, as Sen. Hagel now claims, an aberration. He voted consistently against fairness for LGBT people and there does not seem to be any evidence prior to his effort to become Secretary of Defense of any apology or retraction of his attack on James Hormel. And to those of us who admire and respect Mr. Hormel, Sen. Hagel's description of him as aggressive can only mean that the Senator strongly objected to Hormel's reasoned, civil advocacy for LGBT people," Frank said.
Frank announced his opposition to Hagel's appointment one day after Obama appeared on NBC's Meet the Press and defended Hagel. Although Obama reiterated he has not made a final decision on his next defense secretary, he told host David Gregory that he saw nothing that would disqualify Hagel to replace Leon Panetta as the new Pentagon head.
Noting Hagel's 1998 comments criticizing President Bill Clinton's appointment of James Hormel as ambassador to Luxembourg, Obama said Hagel's subsequent apology speaks to the country's broader evolution on gay rights.
"With respect to the particular comment that you quoted, he apologized for it," Obama said. "And I think it's a testimony to what has been a positive change over the last decade in terms of people's attitudes about gays and lesbians serving our country. And that's something that I'm very proud to have led. And I think that anybody who serves in my administration understands my attitude and position on those issues."
Hormel, despite questioning the sincerity and timing of Hagel's apology, as well as many LGBT-rights groups, accepted Hagel's apology. For Frank, his opposition to Hagel's possible appointment was a departure from his longtime support for the president.
"I cannot think of any other minority group in the U.S. today where such a negative statement and action made in 1998 would not be an obstacle to a major Presidential appointment," Frank said.
With his statement, Frank joins Log Cabin Republicans — a group he has clashed with, labeling members "Uncle Toms" — in their opposition to Hagel's appointment. In a full-page ad in the Dec. 27 New York Times, the group of LGBT Republicans called Hagel "wrong" on "gay rights," Israel and Iran.
As a senator, Hagel consistently voted against legislation that would have expanded hate-crime protections to LGBT Americans. According to the Human Rights Campaign Congressional Scorecard, he earned a 0 percent for the 107th, 108th and 109th sessions of Congress. During the 110th session of Congress, Hagel earned a 20 percent due to his vote to reauthorize the President's Emergency Plan for AIDS Relief (PEPFAR), which, among other things, lifted the ban on HIV-positive visitors and immigrants.