There are several moments on Rihanna's new album Unapologetic in which the synthesizers sound as if they simply couldn't handle all the pressure and sputter out of control. And just as importantly, it would seem there were no sober minds around to fix them.
The song "Jump," for example, starts low and sweet, then builds gracefully to an enticing synth peak at the chorus. But then it jumps to a point seemingly beyond the abilities of her poor machines. The track then bounces – no, flounces – around on fuses about to blow in extended bridges that mostly recall the sounds of an old Atari game, along with a few muffled shouts. Are those the cries of her engineers, trying mightily to steer things back to music-land?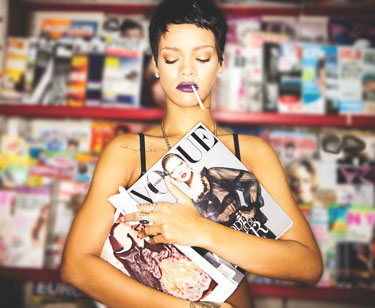 Rihanna
(Photo by Island Def Jam)
Anyone familiar with what is now popularly called EDM – electronic dance music – knows what I'm talking about. Because this particular strain of mid-tempo sound – screechy, wobbly, hostile and totally synth-derived – has been spreading like a computer virus, infecting EDM-producing synths the world over. Some call it dubstep – or more precisely, the Skrillex-popularized, hyper-masculine offshoot known as brostep, merging the sounds of house with heavy metal, of all things.
But a better name for it would be misstep: a noisy fad that I suspect people will look back on with disdain. How could something so non-musical become so popular that it even wins multiple Grammy Awards? And so popular, even the man who is probably EDM's biggest star has now fallen sway. Rihanna follows "Jump" with "Right Now," featuring David Guetta.
But it's not just Rihanna's misstep missteps that make Unapologetic – the prolific pop princess's seventh set in as many years – a hard slog. There's even another regrettable production from Guetta. "Phresh Out The Runway" is as shrill and tuneless as it is stupidly titled, and the least inviting opening track to a pop album I can remember. There's also the drugged-out dirge "Pour It Up," which channels Ke$ha – and no one should ever channel Ke$ha, least of all Rihanna – in its talk of seeing "dollar signs" and hating haters.
RIHANNA
Unapologetic
Island/Def Jam
$11.99


1/2
It should be said that Unapologetic is one of Rihanna's more consistent albums. The sound and style is slower and more bitter than anything since Rated R, though the bittersweet end flavor is easier to take than that 2009 release. The new set even ends with another dash of mid-tempo misstep. Actually, that's not quite right: "Lost In Paradise" isn't offensive at all, with its light dubstep seasoning, no jarring breakdown sounds or screeches – just a robot amusingly chirping "bass snap." If this were how more of today's popular dubstep sounded, I could actually sing its praises. There are other songs worth praising on Unapologetic, from the flat-out beautiful ballad "Stay," a touching duet with Mikky Ekko, to the tart dancehall reggae tune "No Love Allowed" and the pleading two-part jam "Love Without Tragedy/Mother Mary," both of which, taken together, suggest she's mostly moved on from Chris Brown. Then again, Brown joins Rihanna to coo in a Michael Jackson-channeling duet here that the duo's publicly undefined relationship, which has them calling each other baby on record, is "Nobody's Business."
Ho-hum.
DOWNLOAD THESE: "Stay," "No Love Allowed," "Lost In Paradise"