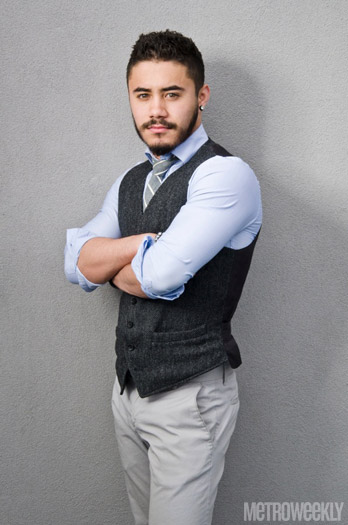 Rich McPherson
(Photo by Julian Vankim)
"Right now in my life I have to focus on myself," he says. "If I do get into a relationship, I want to be able to give myself 100 percent. To do that, I have more work to do. I have a lot of opportunities and drive right now. I'm really embracing life, being grateful for what I have."
While much of where he's gotten is all his own doing, Rich is also abundantly grateful for the support, and fully aware that discipline and independence can't give him all he wants out of life.
"I really appreciate the people who've reached out and voted for me," says Rich. "It's been a great experience. I've gotten a lot of love. I appreciate every single vote. I can't put into words how grateful I am. It's very humbling. A thousand – a million – thank-yous."
Meet Rich at Metro Weekly's 2012 Coverboy of the Year Party at Town, 2009 8th St. NW, Friday, Dec. 14, at 11 p.m.
First Runner-Up Prize Package
· $250 Cash
· Arena Stage — 2 Tickets to Good People
· Blowoff — 2 Admissions to Event on Jan. 12 at the 9:30 Club
· CD/DVD Grab Bag — Gayby, A MusiCares Tribute to Barbra Streisand, Diamond Rings "I'm Just Me" single, P!nk "Blow Me One Last Kiss" single
· DC's Different Drummers — 2 Tickets to D.C.'s Different Drummers' Capitol Pride Symphonic Band Spring Concert A Space Odyssey (3/23)
· DC Eagle — $50 in Drink Tickets, Anniversary Coffee Mug
· FIT — 2 Full Personal Training Sessions
· Gay Men's Chorus — 2 Tickets to Xanadu (3/15)
· Hollywood Tans DC — 1-Month Unlimited Tanning Package in HT54 Stand-Up Booth
· HRC Store — $50 Shopping Spree at D.C. Store
· JR.'s — $25 in Drink Tickets
· Landmark Theaters — 4 Passes
· L'Enfant Café — $50 Gift Certificate
· Mova — $50 Bar Tab
· Number Nine — $50 Bar Tab
· SKIN — $150 of Professional Skin Care Products
· State Theatre — 2 Tickets to Any Show of Choice
· Town Danceboutique — $50 in Drink Tickets Good for Fridays or Saturdays
· Ziegfeld's/Secrets — $50 Cash
Our thanks to all those nightspots, restaurants, businesses and performing arts venues who graciously provided prizes to this year's Coverboy winners. Certain restrictions may apply to some prizes. Prizes are non-transferable.