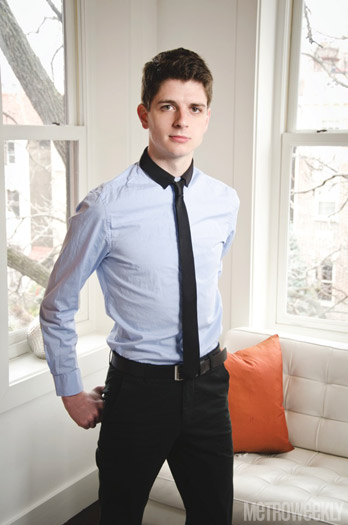 Timothy Warguleski
(Photo by Julian Vankim)
If you look up the word "blunt" in the dictionary, finding a picture of Metro Weekly Coverboy Tim Warguleski, a 22-year-old aspiring vocalist and actor, would be entirely appropriate. Self-assured, witty and opinionated, Tim says what he thinks and is full of one-liners and memorable quotes, whether he's talking about TV personalities, politics or his favorite topic, music.
"I am the most ADHD person when it comes to music," he says. "When you look at the playlist I listen to throughout the week, you would never expect that one person listened to all of it. I have 17 different shower playlists I listen to, depending on what mood I'm in when I wake up. It ranges anywhere from bluegrass to gospel to belting power divas to indie pop."
Whatever his mood, Tim wears it on his sleeve, even if his words might offend. Take his reason for applying to become a Metro Weekly Coverboy:
"I was reading through the Coverboys, and I was like, 'Man, I am far more interesting than most of these guys.' I hate to say it, but I feel like I am. So I thought, why not? Just throw it out there. I just decided to go for it."
Brash? Perhaps. But Tim says it's self-esteem, not cockiness, that leads him to push limits. "I don't have to feel ashamed of who I am in any way, therefore I'm not going to apologize for who I am in any way," he says.
Tim grants, however, that his sense of humor, those witty comebacks, sometimes translate better in person than in print, where his comments may read as arrogant.