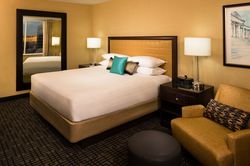 Hyatt Regency Washington on Capitol Hill is in the final phases of a $12 million guestrooms renovation that is scheduled for completion in time for hosting Mid-Atlantic Leather Weekend, Jan. 11 to 14.
Honoring its 42nd year, MAL is a meeting of LGBT leather enthusiasts. A member of the International Gay and Lesbian Travel Association and a gay-friendly TAG Approved property, Hyatt has proudly served as MAL's host hotel since 2011.
Hyatt's renovations of all 834 of the hotel's guestrooms and suites includes replacement of all mattresses and bedding, carpeting, wall covering and light fixtures, the addition of guestroom safes, and installation of new ecoMode thermostats to assist with hotel's energy conservation efforts. The guest corridors are receiving new carpeting, wall covering and lighting fixtures to provide a warm welcoming feel to guests as they enter the guestroom floors.
Additionally, all guestroom doors are outfitted with new state-of-the-art RFID electronic locks and the door frames themselves will be re-sealed to provide a more peaceful environment for guests to experience a restful night's sleep.
The current makeover of Hyatt's guestrooms follows a $30 million renovation of the hotel's grand atrium lobby, restaurant and lounge, meeting spaces and ballroom, which was completed in 2011.