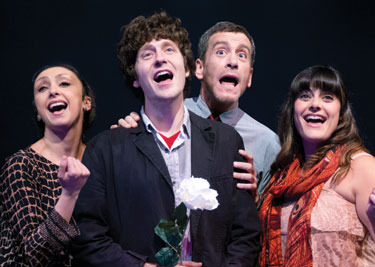 Brel: Natascia Diaz, Sam Ludwig, Bobby Smith, Bayla Whitten
(Photo by Christopher Banks)
Theater is generally intended to be a mentally transporting experience, but of course physical transport – getting there – is necessary first. And it's not always a walk in the park, or an easy commute. In 2012, at least two suburban professional theater companies not easily accessible by Metro – Alexandria's MetroStage and Shirlington's Signature Theatre – offered much of the region's best mental trips, well worth the physical effort it took for the adventure. By contrast, you might have only had to walk down 14th Street to Studio Theatre to see one show that went nowhere and said nothing – and sadly no, I'm not speaking figuratively.
The Best
1. Jacques Brel Is Alive and Well and Living in Paris — If you haven't caught a show at MetroStage, located on the northern industrial outskirts of Old Town, you're really missing out. The company's indefatigable artistic director Carolyn Griffin always takes chances. Among several big risks in 2012, none was as rewarding as this bio-musical about the late mid-20th century Belgian songwriter Jacques Brel, whose underappreciated artistry added to the power of the show. MetroStage's production, helmed by Serge Seiden, featured four stellar singers and three musicians offering a kind of communal, bonding experience over Brel. It was exquisite ecstasy to pop music and musical theater aficionados, especially those who took a chance on seeing a show, with an ungainly title, about a man whose name they didn't even know.
2. Time Stands Still — One of two war-related plays to make this list, Donald Margulies's stunning Iraq War-based play Time Stands Still, which played at the Studio Theatre, intimately explored the moral and ethical issues surrounding what humans do – and don't do – for others on a daily basis. Director Susan Fenichell worked with the show's four marvelous actors, as well as her sharp artistic team, to create a measured tone and pace throughout. As a result, the plot's many small explosive devices reverberated long after they went off, cutting any thinking person to the core.
3. Dreamgirls — As its most-wronged character Effie White, Nova Y. Payton carried Signature's production of Tom Eyen and Henry Krieger's musical, knocking you out every time she opened her mouth to sing. But Signature didn't just coast on its casting of Payton. Director Matthew Gardiner lined up pretty much a dream team — from the cast to the costumes, it was about as dreamy as musical theater gets.
4. Josephine Tonight — The late Wally Harper and Sherman Yellen's bio-musical about Josephine Baker offered pretty much everything one hopes for in a musical: rousing, wide-ranging music; scintillating lyrics and a compelling book; and sharp, inspiring choreography by the great Maurice Hines, who also directed. Most importantly, MetroStage's production featured an ensemble cast of terrific actors, bringing the show to life in extraordinary, triple-threat fashion.
5. All My Sons — The second of two war-related plays to make the grade here, Arthur Miller's masterful classic, set during World War II, is about a man everyone in a quaint, unnamed Northeastern town reveres and fears in equal measure. Kevin Adams was superb as disturbed patriarch Joe Keller in Keegan Theatre's mostly masterful production, directed by Susan Marie Rhea. Rhea and company got the pacing just right so that the show's figurative bombs land with as much startling impact as any real bomb ever could.
The Worst
1. The Aliens — An exercise in testing an audience's patience, or resolve to stay awake, Annie Baker's awkward The Aliens featured nothing but silence for more than a third of its run time – we're talking 40 minutes or more when nothing was heard but scattered rumblings, mostly from folks in the audience. Even in the hands of an accomplished cast and crew led by director Lila Neugebauer, this often-quiet play, produced at Studio, was thoroughly disquiet. Spending good money to meditate for a couple hours over quiet action and silence may work in yoga, but it has the opposite of a calming, healing affect in the theater.
2. Conference of the Birds — Everybody farts – even birds. That was the foul takeaway message of Folger Theatre's production of this fowl play based on a 12th century Persian fable. Aaron Posner had his partridge suffer through a case of sustained flatulence – complete with sound effects from musician Tom Teasley – and let it linger, to the delight of many in the audience. I did delight in Erika Chong Shuch's understated, bird-like choreography. But ultimately, it wasn't enough of a gas to get over the simulated gassiness.
3. Jekyll & Hyde — Deborah Cox was the only saving grace to a revival of Frank Wildhorn and Leslie Bricusse's wildly overdrawn, shlocky musical, which stopped by the Kennedy Center in its pre-Broadway national run. The production was long on melodrama and pyrotechnics but short on compelling story and, well, cast chemistry. In his oft-nasally voiced whine Constantine Maroulis really killed it on stage, to turn a phrase. It's a wonder my love of musicals is still alive and well.
4. Blood Wedding — The generally stunning, plucky Constellation stumbled last season with its staging of Federico García Lorca's Blood Wedding, as translated by Tanya Ronder and directed by Shirley Serotsky. The acting ensemble wasn't as tight as normal. Worse, it was exceedingly hard to warm to this dated, bloody, inherently Spanish story, making the whole thing seem a bit of a folly.
5. The Kinsey Sicks' Electile Dysfunction — In a year when some of the most laughable of politicians were briefly considered viable political candidates – Herman Cain, Michele Bachmann – it was perhaps inevitable that a "dragapella beautyshop quartet" would want to parody the sad reality. But the joke of this "Kinsey Sicks for President" show grew old fast. By show's end, new ideas were running as low as those of the Republicans they spoofed.