"I am your sole drag queen of the house," purrs Isis Deverreoux of Phase 1 of Dupont. In fact, Deverreoux is becoming essentially the lesbian venue's fairy drag mother. Specifically, she's working to nurture a ragtag group of young drag kings — women impersonating men, from facial hair all the way down to uncompromising swagger. For the past few months, Deverreoux, the venue's event coordinator, has organized a themed monthly drag king show, Phasepex, a play on the names Phase 1 and Apex, the previous nightclub in the space, where local drag king entity the DC Kings were a popular draw.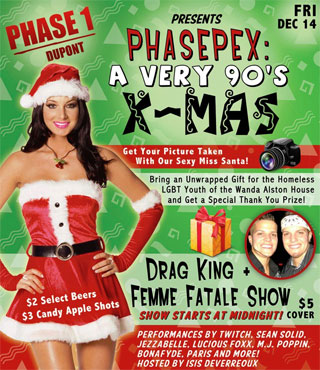 Phasepex promo
This Friday, Dec. 14, Phasepex presents "A Very 90's Christmas." Deverreoux says some of the kings will perform decked out in boughs – balls? – of holly, so to speak, but the overall focus is on music and performances from the '90s. The show includes "femme fatales," or women dolled up as glamourpusses. Sean Solid, Twitch, Jessabelle, Lucious Foxx and Bona Fyde are among those on tap to perform. Deverreoux will serve as the show's emcee and will kick things off with "All I Want for Christmas" by Mariah Carey – because that song is just way too giddy and girly for anyone but a larger-than-life drag queen to tackle. The event also promises a Sexy Miss Santa. "She'll be taking pictures with everyone at the end of the night," says Deverreoux, who encourages patrons to "wear your best Christmas attire."
Next year, starting Jan. 4, Phasepex will inaugurate Isis Deverreoux's Drag King Race, modeled after RuPaul's popular Logo series for drag queens. More than just a competition, the goal is to shine a spotlight on drag kings.
"I feel drag queens have really come into their own light in mainstream society," says Deverreoux, "[while] drag kings get overlooked because they don't have as many outlets." Though full details are still being ironed out, Deverreoux says each monthly show in the Drag Race's six-month season will turn on a specific challenge. And RuPaul's official jeweler, Nova Starr's Fierce Drag Jewels, will be a sponsor for Deverreoux's series, specifically to design the winning king's crown.
Deverreoux, who moved to the Washington region from New York about six years ago, says that, slowly but surely, she's helping Phasepex drag kings come out of their shell and develop strong identities as performers. And she promises patrons won't be disappointed. "This is not your average drag show," she says. "This is a show of entertainers."
A 90's Christmas Party is Friday, Dec. 14, at 9 p.m., while the Drag King Race starts Friday, Jan. 4, at 9 p.m., at Phase 1 of Dupont, 1415 22nd St. NW. Cover is $5. Call 202-974-6832 or visit phase1dupont.com.