Enchantingly atmospheric and often funny, the Shakespeare Theatre Company's A Midsummer Night's Dream is rich with love's intangibles: wistfulness, a touch of cynicism, and its contrast of flavors – the blindly new, the knowingly seasoned, and the always mysterious. Of course, much has been written on Shakespeare's references for this play – some medievally religious, some classical (see a very interesting article in the program notes) – but this is an interpretation that feels firmly rooted in the magic of human and not-so-human love. With fairies who look to have pulled their personas from a fabulous dress-up box, a slowly complex, twirling choreography, and a set evoking a crumbling between-wars European theater, this is a confection for those who prefer their holiday entertainment more pagan than pious.
And there is much subtle potency here in director Ethan McSweeny's contrast between the fairies, who emerge like vibrant echoes from another era, and the humans who, lit with incandescent-bulbed realism, stay thoroughly grounded in earthly concerns (both practical and passionate). The young humans live for the frantic moment, the older ones carry a burden of lost innocence and post-war fatigue, and the fairies come, go and interfere more for their own purposes than with any real interest in human need. Working equally well for the mingled habitats of the earthly and magical, Lee Savage's front and backstage sets are quirky and inventive (and reminiscent, in their quiet chaos, of Avant Bard's anarchic days in the Clark Street Theater), even if they never quite evoke a real or imagined fairy forest.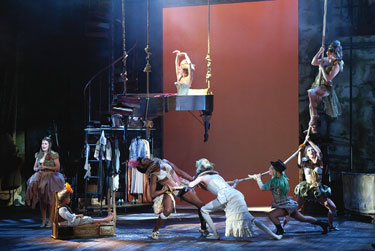 Midsummer Night's Dream
(Photo by Scott Suchman)
With three interwoven worlds at play — a near-miss rom-com between four would-be human lovers; the comic efforts of an ad-hoc acting troupe to plan and perform an entertainment for the king's wedding; and a tempestuous fairy king and his queen whose feud soon sends troublesome magic into the lives of the wooing couples and actors alike – there is a lot to carry.
In the wrong hands, such of the bard's complexities can be tackled with an exaggeration that is a poor substitute for clarity. But McSweeny's vision for each world is clear and cohesive. His fairies are grown-ups and their plane a place of intense, well-crafted rhythms; they may be tantalizing but they are never Tinker Bell (Disney's, that is). Just as effectively, yet in an entirely different way, the ragtag acting troupe delivers wit, nuance and even palatable slapstick with their own vibrant color while the young couples rail, rant and woo with the unique energy of self-absorbed youth. Such distinct different moods and measurers all in one play are no mean feat. Indeed there is only one plate that falls – and only briefly – and that is when the actors finally perform for the king. The "bad" buffoonery lags until Bottom returns with his usual tongue-in-cheek energy. Still, those few moments aside, this large ensemble piece, moving from world to world and back again, works exceptionally well.
As fairy King Oberon and Queen Titania, Tim Campbell and Sara Topham have a convincing spark with one another, with Topham's self-absorbed, flirty independence and lithe limbs suggesting well why Oberon finds her both annoying and irresistible. That we get all of this from Titania speaks highly of Topham and, add her easy facility with the language, and she is a true standout. A bit menacing, a bit broody and, without doubt, a sizzler in his powder and wig, Campbell gives Oberon an equally potent personality. But, although he is largely fluent and has a memorable voice, there are words now and again that break rhythm in a way that distracts.