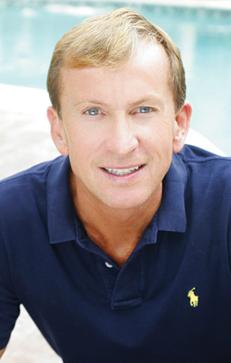 Already a top destination for gay travelers, Fort Lauderale is not resting in its effort to attract more members of the LGBT community to the coastal resort city. The Greater Fort Lauderdale Convention and Visitors Bureau recently announced the pointment of Richard Gray [pictured] as the managing director for the LGBT Market
"Richard has been one of the most experienced and influential individuals in Greater Fort Lauderdale gay tourism and hospitality, and it is a great win for us to have him part of the team," said Nicki E. Grossman, president of the Greater Fort Lauderdale Convention and Visitors Bureau. "For us the LGBT market is not a niche market but a market in its own right. With Richard's background as both a local proprietor and advocate for LGBT travel and tourism in the region, we feel the timing is right to make this next important step for us and this destination."
Gray will serve as official representative for the LGBT market in Greater Fort Lauderdale, developing and implementing short and long term strategic plans to increase room nights and global travel and tourism.
Gray was previously owner of The Royal Palms Resort & Spa, a highly rated Fort Lauderale gay guest house. In 2007, he was named a member of the Broward County Tourist Development Council, a group of influential officials and business owners that provide leadership on tourism growth in the destination. His return to Greater Fort Lauderdale LGBT tourism marketing coincides with the CVB's expanded push to capture a larger slice of the LGBT travel market as part of its "Hello Sunny" 2013 marketing plan.
"The sands of Fort Lauderdale run through my veins and I've always wanted to be a part of the community since I first moved here more than 20 years ago," said Gray. "Greater Fort Lauderdale has become the top LGBT destination in Florida. With the largest resident lesbian and gay population and more than 150 gay owned and operated businesses, my role is not to rest on our laurels and success, but to grow this affluent market even more."
Information on visiting gay-friendly Fort Lauderdale is available at www.sunny.org/glbt.