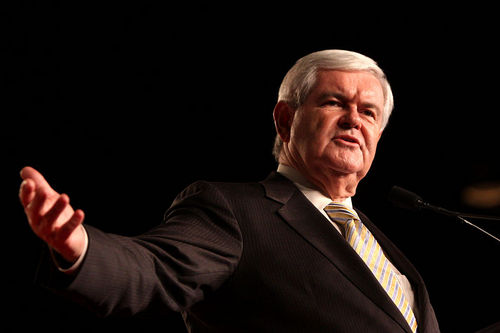 In an extensive interview with The Huffington Post, former Republican presidential candidate and Speaker of the House Newt Gingrich suggested the Republican Party must evolve on its stance on same-sex marriage and "deal with reality."
Although Gingrich said he continues to believe marriage is defined between a man and a woman, he said there could be a distinction made between a "marriage in a church from a legal document issued by the state."
"I think that this will be much more difficult than immigration for conservatism to come to grips with," Gingrich told The Huffington Post, referring to continued Republican soul searching on social issues many believe helped cost Republicans the presidency in 2012. "It is in every family. It is in every community. The momentum is clearly now in the direction in finding some way to … accommodate and deal with reality. And the reality is going to be that in a number of American states — and it will be more after 2014 — gay relationships will be legal, period."
Gingrich – whose half-sister, Candace Gingrich-Jones, works at the Human Rights Campaign – oversaw the passage of the Defense of Marriage Act in 1996 as speaker of the House of Representatives. Gingrich said the tide on marriage equality has changed considerably since DOMA was signed into law by President Bill Clinton.
"I didn't think that was inevitable 10 or 15 years ago, when we passed the Defense of Marriage Act," he said. "It didn't seem at the time to be anything like as big a wave of change as we are now seeing."
Gingrich's comments came as a surprise to many advocates, who applauded his shifting views as reflective of national trends on marriage equality.
"Newt Gingrich reflects the experience that has changed the minds of so many Americans in understanding that LGBT people are a part of every family and community – including his own," said Human Rights Campaign President Chad Griffin in a statement. "His evolution resonates with people on a very personal level and is a quintessential example of why momentum is on the side of equality."
Griffin added that Gingrich's comments give other Republican leaders the room to embrace marriage equality.
"The six million LGBT people who voted this election cycle, along with the decisive victories we secured across the board, make clear the direction in which our country is heading," said Griffin.
HRC quickly jumped on Gingrich's comments, releasing an image of Candace Gingrich-Jones responding to her brother's remarks. "It's not an easy journey," Gingrich-Jones is quoted as saying, "but I hope our family's experience can give a little hope to those who are on the same path."
At a rally for marriage equality in Maryland last February, Gingrich-Jones joked about her relationship with her brother. "We can't choose who we're related to," she said, "but we can choose our representatives."
According to R. Clarke Cooper, executive director of Log Cabin Republicans, "Gingrich speaks for many Republicans who are concerned about our party's future, and who are ready to accept the freedom to marry matters to many Americans, gay and straight. As he said, LGBT people are part of every family and every community, and the time has come for greater inclusion."
Cooper added that it is "particularly important and welcome to hear that Gingrich now understands the difference between church ceremonies and a civil marriage license, and that equality is no threat to religious freedom."
Young Conservatives for the Freedom to Marry also praised Gingrich in a statement, stating that the freedom to marry is in line with fundamental conservative beliefs.
"Our party must keep pace with the American people if it is to remain relevant in the political process, and as we saw in the recent election, we have some changes to make," the statement said.
On Election Day, marriage equality won at the ballot box in four states. With DOMA and California's Proposition 8 now before the Supreme Court, many advocates have suggested momentum is on their side on same-sex marriage rights.
[Photo: Newt Gingrich (Courtesy of Gage Skidmore/Wikimedia Commons).]
[Editor's Note: This post has been updated to include statements from HRC, Log Cabin Republicans and Young Conservatives for the Freedom to Marry.]