Philip Pannell is getting a vacation. Finally.
"It's only the second vacation I've ever had in my life," says Pannell, 62, an icon of grassroots District activism. "I'm going for two weeks to Palm Springs, Calif. A friend of mine has a house there and is treating me to an airplane ticket. So, I'm actually going on a vacation, in the desert, in a very, very gay-friendly city."
With Pannell's decades of partisan action, it's fair to ask if he'll be comfortable in a place not quite so Democratic as the overwhelmingly "blue" District of Columbia.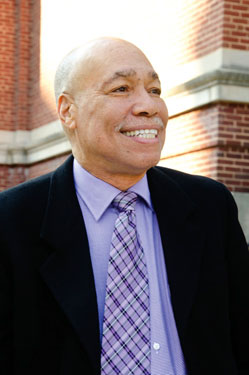 Philip Pannell at New York Avenue Presbyterian Church, home to Faith Temple
(Photo by Julian Vankim)
"My understanding is the Republican [congressional] incumbent, Sony Bono's wife (Mary Bono Mack), lost," Pannell points out. "I will be in a just-turned-blue congressional district vacationing. And I have Republican friends. I should be able to find some rest and relaxation in their territory."
He certainly deserves some. First of all, he could use that R & R to recover from election season, which saw him lose his bid to serve as the Ward 8 member of the D.C. State Board of Education despite years of experience and unquestionable dedication to the Ward 8 community and beyond. Second, Pannell could simply use some time to recharge before heading back to his multiple obligations in Washington. Election loss or not – and Pannell vows that was his last attempt at seeking office – he might be giving more time than laws of physics allow.
"When you've been going the way I've been going, trying to squeeze a 25th hour out of 24-hour days, it just can be challenging."
Among those challenges: serving as president of his Congress Heights Civic Association. He's working by day as the executive director of the Anacostia Coordinating Council. A small irony is that he's also the president of the Anacostia/Bellevue/Congress Heights chapter of the AARP – formerly the American Association of Retired Persons – with no retirement in sight.
"I can't afford to retire," Pannell says bluntly. "That's the situation so many of us senior citizens find ourselves in. Retirement is nowhere within my reach at this point. Though I hope to at least be starting to… not have as much on my plate."