Chi Chi LaRue is one busy drag queen. From small-town beginnings in Hibbing, Minn. – where he was better known as Larry Paciotti – to running Channel 1 Releasing, a West Hollywood, Calif.-based adult-entertainment empire, LaRue has made a name for herself. While still directing, LaRue has taken her brand global as a clubland DJ, even making movies abroad.
A measure of her fortitude, LaRue was back from London Nov. 30 and back in the DJ booth Dec. 1.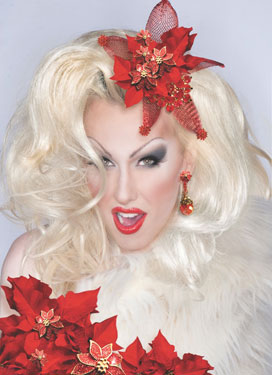 Chi Chi LaRue
(Photo by courtesy C1R)
"I barely made it because of my jet lag," she says of DJ'ing at L.A.'s Rasputin. "It was brutal."
And after a week at home, it's off to Las Vegas. One advantage in her nonstop lifestyle is her newfound sobriety, which she's enjoyed for a little more than a year.
"People offer shots and drinks and get offended if I won't drink with them," says LaRue. "It gets to the point where I have to say no till it's, 'Look, dude, I'm sober.' And I don't want to do that, because I don't want to ruin people's fun. I want people to have fun. Whoop it up, girl!"
LaRue recently shared some of her insights on navigating sobriety and winter holidays, as well as Palm Springs, Las Vegas and London.
METRO WEEKLY: How was the flight back from London? How did you fly?
CHI CHI LARUE: American Airlines, business class. The flight was great. I watched two series, Nashville and Scandal. I needed to catch up on those, so it was great.
MW: How about the trip itself?
LARUE: London's fabulous, one of my favorite cities. I shot a movie while I was there called London Spunked – with Johnny Hazzard's return to Channel 1 Releasing – and a bunch of models from over there, which was something I wanted to do for a really long time. So, with Dean Monroe and a fabulous London crew, I shot a great movie.
I also did a couple gigs. I DJ'd at Tranny Shack, and I hosted some parties – one at Gigolo Disco and one at Playtime.
MW: What are some of your winter travel plans?
LARUE: I'm going to Denver on the 14th, then back to Minnesota to be with my family, spend the holidays there and do a gig at a club called Jetset with my nephew, Bryan Gerard. He's also a DJ, straight. He's the greatest kid in the world. Well, he's not a kid anymore – he's like 36 – but he's the coolest. And his girlfriend is fantastic and my sister is amazing. I've got great family in Minnesota.