Anti-gay Sen. Jim DeMint announced Thursday that he would resign from the Senate to head one of the country's largest conservative think tanks.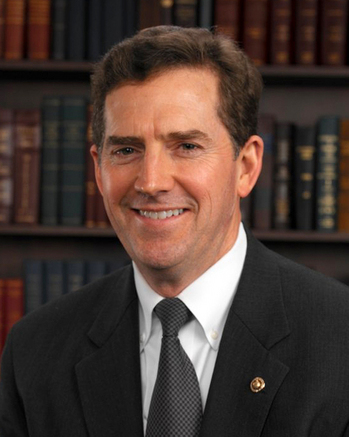 The South Carolina Republican will leave the Senate Dec. 31, according to CNN. DeMint, who was first elected in 2004 and re-elected in 2010, will become the new head of the Heritage Foundation.
"I'm leaving the Senate now, but I'm not leaving the fight," DeMint said in a statement. "I've decided to join The Heritage Foundation at a time when the conservative movement needs strong leadership in the battle of ideas. No organization is better equipped to lead this fight, and I believe my experience in public office as well as in the private sector as a business owner will help Heritage become even more effective in the years to come."
DeMint outraged many in 2010 when he said gay people and sexually active unmarried women should not be allowed to teach. DeMint made similar statements in 2004, for which he later apologized. Aides to DeMint defended his 2010 comments as coming from a father and not a legislator.
GOProud was among those who criticized DeMint's comments, describing them as "outrageous and bizarre." DeMint was also one of the biggest names to boycott the 2011 Conservative Political Action Conference because of GOProud's involvement. The Heritage Foundation also boycotted CPAC because of the involvement of gay conservatives.
Reached by Metro Weekly, GOProud Executive Director Jimmy LaSalvia declined to comment on DeMint's resignation.
Although DeMint scored a 0 on the Human Rights Campaign's Congressional Scorecard for the 110th Congress and the 111th Congress, DeMint scored a 40 for the 112th Congress due to his vote against the Hutchison Amendment to the Violence Against Women Reauthorization Act, which sought to strike provisions prohibiting discrimination against and expanding services to victims of domestic violence based on sexual orientation or gender identity.
Speaking at the Family Research Council's annual Values Voter Summit last September, DeMint argued against compromise with "people who also believe that governments should set our values."
"We don't need to be a group of people who say we want the government to represent our values," DeMint said. "We just cannot have, particularly the federal government, redefining marriage or telling us what is right or wrong."
With DeMint's term not set to end until 2016, a special election will be held in 2014. South Carolina Governor Nikki Haley, who is a Republican, will name DeMint's successor in the interim.
[Photo: Jim DeMint (Courtesy of the U.S. Senate).]