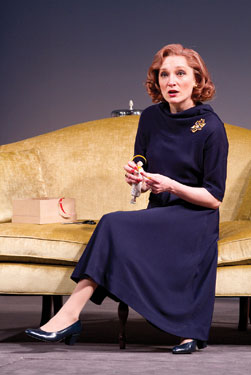 Strange Interlude: Francesca Faridany
(Photo by Scott Suchman)
A good night at the theater is kind of like plane travel for brains. A really great production gets your mind on board smoothly and efficiently and before you know it you are through the clouds and soaring. A not-so-great production is more like a departure lounge delay; the seats becomes annoying, the neighbors irritating, time stands still, and the mind searches vainly for something, anything, to interest the imagination. Of course, even great air travel, and theater, has its turbulent moments, but it's still all about the rush, the momentum and that leaving behind of one's earthly cares. This year, five productions, three conventional, two less so, really took flight, each in their own way and for quite different reasons.
Not so high on the list were three plays that never got off the runway.
The Best
1. Strange Interlude – As phenomenal as director Michael Kahn may be at crafting boldly accessible (and seat-filling) modern interpretations of the classics, he is his unstoppable best with the most demanding and least tweaked. Seasonally rare, these traditional pieces are like oxygen for those of us craving the spoon with which to feed ourselves. We don't have to understand every word, see every loop closed. We like the struggle with the language, the meaning and, yes, the fortitude it takes to stay engaged through a long and difficult play. This past season, it was with Eugene O'Neill's Strange Interlude that Kahn answered the call. A long study of lives unfulfilled and loves lost or never had, Kahn mastered the rhythms, frolics and complexities of O'Neill's voice with breath-taking clarity and profound sensitivity. As the woman caught in the maelstrom of her psyche and the events that test it, Francesca Faridany delivered, with stellar intensity, her Nina with enduring emotional power and relevance. Difficult, unsettling and yet utterly engaging; this is the kind of theater that keeps DC on the map.
2. A Normal Heart — A piece of deep and lasting relevance, Heart is that rare contemporary play that assumes an intelligent, discerning audience – despite a mission to inform. Yet, even with its deeply embedded cynicism, irreverence and wit, in the wrong hands, this could quite easily have ended up a sanctimonious, message-laden toe-curler. Thankfully, with director George C. Wolfe at the helm, Arena's interpretation stayed true to Larry Kramer's uncompromised vision. Completely simpatico, Wolfe paced the unfolding neuroticisms, difficult choices, and heartbreakingly human fears alike with clever, confident pacing. A superb dramatic editor, Wolfe never let a scene or a moment go too long and it was this restraint that gave such whiplash power to Kramer's men and their agony. As Ned Weeks, the witty, agitated activist at the center of the drama, Patrick Breen was pitch-perfect. With sparse but effective sets, lighting and sound design, David Rockwell, David Weiner and David Van Tieghem evoked time and place as well as the enduring urgency of Kramer's message. It was a production that made a cynic proud to shed a tear.
3. Little Murders – A tiny, financially struggling theater, The American Century Theatre stands out season after season for bringing to the stage (okay, maybe it's more of a "space" in the Gunston Middle School), a fascinating variety of 20th century American plays. Hailing from a time before the great communally-wired consciousness, these are American voices that sing with stunning originality, insight and (usually) humor. Though better known for his witty cartoons, Feiffer penned his satirical Murders in response to a 1960s New York City in which drugs, guns, and general mayhem seemed to be spiraling out of control. Pitting a highly-neurotic apartment-dwelling middle-class family against these seen and unseen forces, Feiffer delivers their undoing with cynical irreverence. Against all budgetary odds, set and sound designers Patrick Lord and Ed Moser delivered a palpable atmosphere in this little production; you could almost smell the city. Add the memorable talents of Craig Miller as the hilariously irascible family patriarch, Carol Newquist, and this was a production that stayed in the heart and mind long after the folding chairs went back into the utility closet. TACT is a company that deserves to thrive in 2013.
4. Elephant Room – If not exactly a play, Elephant Room was nevertheless thoroughly theatrical. The brain-child of three comedian-magicians, Steve Cuiffo, Geoff Sobelle and Trey Lyford, and set in the grey-carpeted confines of a place called the Elephant room, each (more or less) told or revealed (sort of) something (maybe) about themselves as they moved at warp-speed through general mayhem and some very specific magic. Fast-paced to the point of near-madcap madness, but perfectly balanced by director Paul Lazar, it was an evening of hilarious East Coast wit, superb counter-culture conjuring, and abject silliness. Was there a plot? Who cares? There was showmanship, three very well-conceived personas, a tremendous feat of choreography and a truly evocative, basementy, magical atmosphere thanks to set designer Mimi Lien and sound designer Nick Kourtides. Right there, that beats an awful lot of conventional theater.
5. War Horse – Like all entertainments offering high quality magic for children, War Horse was destined to be something wonderful for adults. Part-play, part spectacle, with interludes of folksy ballad and simple, sophisticated sets, it defied easy category, but that was so much a part of its charm. And though Michael Morpurgo's novel was simplified and the acting not so hot, none of it mattered when the War Horse puppets were on stage. Masterpieces of industrial design and beauty from South Africa's Handspring Puppet Company, these life-size "horses" were magnificent creations. But it wasn't just their massive size that awed, but also Toby Sedgwick's stunning choreography of their movements. Living, breathing, they drew us into their world with the immense credibility of living things. Never anthropomorphized, they were at once marvels of story-telling and human invention. To see them on stage was to be reminded that there are some things a screen, large or small, can never offer the human spirit.
The Worst
1. Mr. Burns; a Post-Electric Play – A play that should be required viewing for all playwrights fancying themselves au fait with popular culture, Anne Washburn does what no writer should ever do: try to be clever with something that's already as clever as it gets (at least for what it is). Based on the idea that the Simpsons TV show is so ingrained in the American psyche that it would morph into a cultural touchstone for a post-apocalyptic society, Washburn clearly figured she was onto something. Whether she was or wasn't, we never found out since instead of exploring the idea, she beat it to death with the kind of musical theater that makes any sane person start rummaging for a cyanide pill. Not good.
2. Jekyll and Hyde – It's hard not to be a huge fan of Synetic, the dance-theater company that brings such innovations as Silent Shakespeare and so many other richly imaginative, often sensuously dark, pieces. But despite some fascinating choreography and some very beautiful anti-Hollywood bodies, Synetic's Jekyll was just too Hyde. Undoubtedly not wanting to glorify sexual violence (which they chose to interpret as Hyde's predilection), the Tsikurishvilis nevertheless missed the key question: Would a jerk be titillated? Unfortunately, the answer here was a "yes." With such reserves of originality and imagination in this troupe, it's surprising they couldn't find another way.
3. God of Carnage — An "it" play for 2012, one must imagine that perhaps the Broadway version of Carnage had sufficient chemistry to match the hype. For, despite the PR, Yasmina Reza's oh-so-smug "comment" on parenting, marriages and urban/suburban class wars, toys with a cultural vignette but little else. And it is a cultural vignette that Reza is happy to see translated depending on the country in which the play is performed. Unfortunately for us, director Joe Calarco decided that physical comedy would makes this DC-compatible and yet did nothing about Reza's distinctly European pacing. Thus, despite a wonderful performance by Naomi Jacobson, a hard-working ensemble, and a certain level of entertainment, one had to wonder what all the fuss was about.