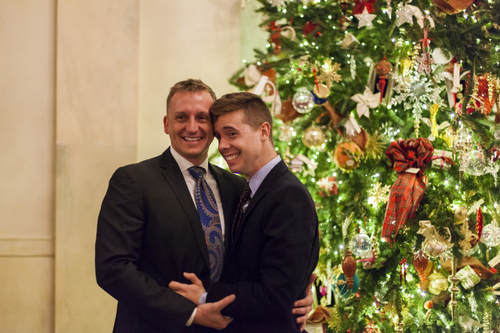 The White House hosted what appears to have been its first ever same-sex engagement.
On Saturday, U.S. Marine Corps Captain Matthew Phelps dropped to one knee in the main hall of the White House to propose to his partner, Ben Schock.
The engagement was caught on camera during a holiday tour of the White House for 50 members of the American Military Partner Association and the Military Partners and Families Coalition, which posted photos of the proposal on Facebook that quickly went viral.
Writing on his Facebook page, Phelps said he was blown away by the love and support the couple has received. "Such a special night surrounded by wonderful people in an amazing place, and the best is still yet to come with Ben Schock," Phelps wrote.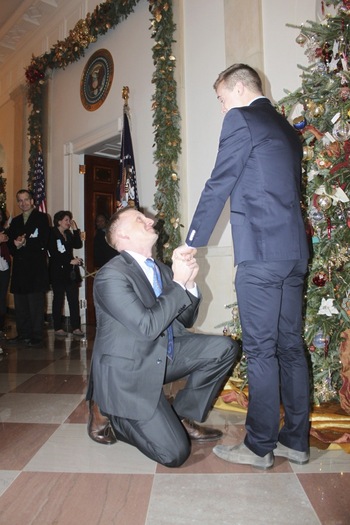 In an email to Metro Weekly, Phelps said the reaction has been overwhelming.
"I wanted only to make the night a special and memorable one for Ben, and have a few friends help me coordinate to make it a surprise," Phelps wrote. "I had no idea other people would be taking pictures and posting them online."
Although the couple met in 2010, their first date wasn't until June 2012 at the White House for an LGBT Pride Month reception. It was there that a transgender man proposed to his girlfriend in what is believed to be the White House's first LGBT engagement. Phelps said that when he received an invitation to the White House holiday tour on Dec. 15, the six month anniversary of their first date, it was "too big to pass up."
Despite the joyful occasion and outpouring of support, Phelps says the road ahead will be challenging as the Defense of Marriage Act prohibits the Department of Defense from recognizing their marriage.
"As a same-sex military spouse, Ben won't be entitled to the same rights and privileges as opposite-sex married spouses. We won't be allowed base housing, he won't be entitled to health care coverage, and he won't officially be allowed to accompany me if I am stationed overseas, which is what I am expecting after I graduate from Marine Corps University in May," Phelps said.
Nevertheless, the couple is planning a spring wedding in either Schock's home state of Washington or in Washington, D.C., where they currently live.
"Who knows," said Phelps, "maybe the President and First Lady will let us have all our special moments there!"
[Photos: Matthew Phelps proposes to Ben Schock at the White House (via Facebook).]