It was a long time in the making, but advocates of marriage equality now have four electoral victories in their "win" column – up from zero.
After years of trying to pass a marriage-equality bill through the Maryland General Assembly, gay-rights advocates – led by the Marylanders for Marriage Equality coalition – were able to round up enough votes from previously hesitant lawmakers to narrowly pass the Civil Marriage Protection Act in February, signed into law by Gov. Martin O'Malley (D) in March.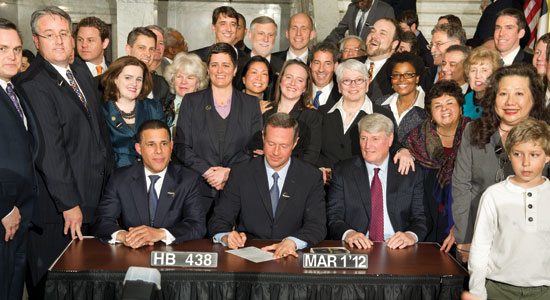 Gov. Martin O'Malley signs marriage bill
(Photo by Jay Baker)
The legislation provided that the state could begin issuing marriage licenses to same-sex couples on Jan. 1, 2013, setting the stage for the ballot fight.
The Maryland Marriage Alliance immediately began gathering petition signatures to force a November referendum, netting more than twice the number needed. Question 6 was born.
The battle also drew in the big guns. The anti-gay National Organization for Marriage dumped money in the "vote no on 6" camp, while the Human Rights Campaign put its weight behind passing it.
Beyond the cash, Question 6 supporters sought to craft the argument as one rooted in fairness and equality, where loving, committed couples could have their relationships recognized by the state while not infringing on the rights of clergy or religious organizations not to recognize same-sex marriages if it violated their beliefs.
Opponents, on the other hand, argued that the Civil Marriage Protection Act was an overreach of government, and, in particular, liberalism, which was seeking to "redefine" marriage and dictate a certain set of values. Opponents also claimed that religious freedom was threatened by marriage equality, despite the law's explicit protections for clergy and religious organizations.
Opponents pointed to the October suspension of Gallaudet University's chief diversity officer, Angela McCaskill, for signing the petition to put marriage equality on the ballot, and the vandalism of a Chick-fil-A store in Maryland, as evidence that freedom of speech and religion would be infringed by the passage of Question 6.
Come Nov. 6, Maryland voters approved Question 6 by a 52-48 margin.
Maryland was not the only win for marriage-equality advocates on Election Day. A referendum to uphold same-sex marriage passed by a similar margin in Washington state. Voters in Maine approved a citizen-backed initiative that successfully reversed a 2009 referendum that rescinded marriage equality. And voters in Minnesota rejected an effort backed by the Republican-controlled Legislature to amend the state constitution to ban same-sex marriage, even though it is already outlawed by statute.