A man whose last name is best known from a Christmas song, leading a Jewish-themed show on Christmas Eve? It's not just funny — Rob Tannenbaum insists it's Good for the Jews. To be exact, that's the name of his rock band with David Fagin.
"What we're trying to present is an evolved ideal, or an evolved representation of what Jews are about," says the New York-based Tannenbaum, who grew tired of the ancient Hebrew melodies he learned at Hebrew school in Connecticut – as well as stereotypical songs about dreidels. "That's the kind of stuff that turns me off of being Jewish," he says. Instead, Tannenbaum, a music journalist and author by day, finds more inspiration in the Jewish Americans who created many of the 20th century's best songs, including Bob Dylan, Paul Simon and Irving Berlin, "the Jew who wrote 'White Christmas."'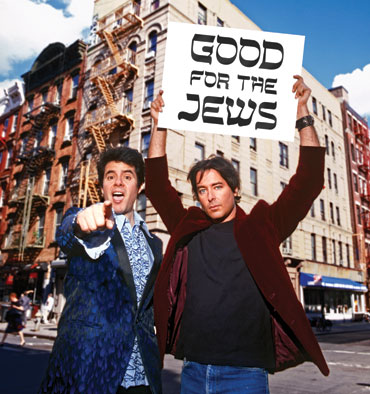 Good for the Jews
For the fifth consecutive year, Good for the Jews stops at Vienna's Jammin Java to perform on Christmas Eve. "If you're Jewish, Christmas Eve is the worst night of the year," says Tannenbaum. Everything other than a few Chinese restaurants are closed, "and anything you turn on, on TV, it's going to be Christ-related. So we like to give Jews — and often non-Jews — a reason to celebrate and sing along."
In Putting the Ha! in Hanukkah, Tannenbaum and guitarist Fagin, self-styled "unorthodox Jews," "tell songs and sing jokes." They perform all-original tunes.
Which is why you won't find Tannenbaum parodying standards, not even his namesake Christmas song. "It'd be a little too cutesy," he says, about writing alternate lyrics to "O, Tannenbaum." Besides, the word "tannenbaum" simply means "fir tree" in German. "If you think about it, there were trees before there was Jesus Christ," he quips.
The Jammin Java show is intended as a salve for both Tannenbaum, who concedes "December can be an awkward month for me," as well as for Jews in general, offering an alternative sense of community. "This is another way of feeling Jewish without having to sit in a temple and listen to some boring rabbi drone on for an hour."
Good for the Jews performs Monday, Dec. 24, at 7 p.m. Jammin Java, 227 Maple Ave. E., Vienna. Tickets are $20. Call 703-255-3747 or visit jamminjava.com.