President Barack Obama defended former Sen. Chuck Hagel on Sunday, describing the Nebraska Republican's apology for anti-gay comments made in 1998 as evidence of evolving attitudes toward gay people serving their country.
Asked by David Gregory on NBC's Meet the Press if Hagel's previous statements disqualified him to serve as secretary of defense, Obama reiterated no decision has been made on who will replace Leon Panetta at the Pentagon, but said he sees nothing that would disqualify Hagel.
"I've served with Chuck Hagel," Obama said. "I know him. He is a patriot. He is somebody who has done extraordinary work both in the United States Senate, somebody who served this country with valor in Vietnam, and is somebody who's currently serving on my Intelligence Advisory Board and doing an outstanding job."
Noting Hagel's 1998 comments criticizing President Bill Clinton's appointment of James Hormel as ambassador to Luxembourg, Obama said Hagel's subsequent apology speaks to the country's broader evolution on gay rights.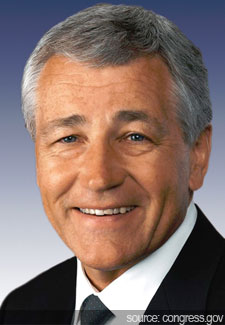 "With respect to the particular comment that you quoted, he apologized for it," Obama said. "And I think it's a testimony to what has been a positive change over the last decade in terms of people's attitudes about gays and lesbians serving our country. And that's something that I'm very proud to have led. And I think that anybody who serves in my administration understands my attitude and position on those issues."
In 1998, The Omaha World-Herald reported Hagel describing ambassadorial posts as "sensitive."
"They are representing America," Hagel said. "They are representing our lifestyle, our values, our standards. And I think it is an inhibiting factor to be gay — openly aggressively gay like Mr. Hormel — to do an effective job."
In 1999, Hagel also voiced opposition to repealing "Don't Ask, Don't Tell," stating, "The U.S. armed forces aren't some social experiment."
Obama's comments marked the first time the president has weighed in on the controversy surrounding Hagel's prospective appointment. White House press secretary Jay Carney, while declining to comment on possible cabinet appointments, has defended Hagel is recent weeks, describing him as a "remarkable servant to this country."
On Dec. 21, with LGBT-rights advocates questioning whether Hagel's views had evolved since he left the Senate in 2009 and reports indicating Hagel was at the top of Obama's list to run the Pentagon, Hagel issued an apology and affirmed his support for open service in the military.
"My comments 14 years ago in 1998 were insensitive. They do not reflect my views or the totality of my public record, and I apologize to Ambassador Hormel and any LGBT Americans who may question my commitment to their civil rights. I am fully supportive of 'open service' and committed to LGBT military families," Hagel said in a statement.
Although many gay rights groups accepted Hagel's apology, including the Human Rights Campaign and OutServe-SLDN, Hormel questioned the timing of Hagel's apology, but said he would support Hagel's nomination if he truly is committed to open military service and LGBT military families.
For Log Cabin Republicans, however, Hagel's apology wasn't enough. In a full-page ad in the Dec. 27 New York Times, the group of LGBT Republicans called Hagel "wrong" on "gay rights," Israel and Iran.
"Chuck Hagel's weak record on preventing nuclear proliferation in Iran, lack of confidence in our ally Israel as well as an aggressive history against the LGBT community is a no-go combination for a Secretary of Defense nominee," said LCR Executive Director R. Clarke Cooper in a statement.