Groups of local activists joined Saturday evening, Dec. 1, to protest the renewed push in the Ugandan Parliament for a bill that would further criminalize homosexuality and administer severe punishments, such as life imprisonment or possibly the death penalty.
Rallying in front of the Embassy of the Republic of Uganda, located along busy 16th Street NW, in the city's Brightwood neighborhood, members of Light Brigade Maryland, GetEqual DC and GLAA held signs of lights made into letters that spelled out "Reject Ugandan Homophobia." Starting at 7 p.m., for a bit more than an hour, the activists stood on the eastern side of the street holding their signs as early evening travelers flowing in and out of the District drove by, some honking their in support of the protest.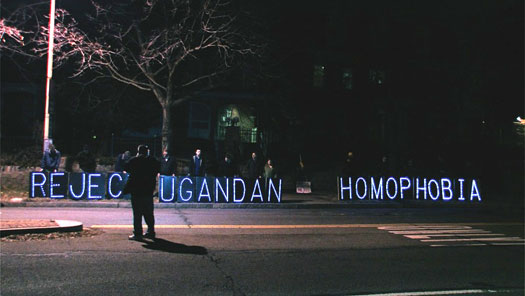 Ugana Embassy Protest
(Photo by Aram Vartian)
Several activists told Metro Weekly they hoped to raise awareness among area residents about the anti-homosexuality legislation, dubbed the "Kill the Gays" bill after it was first introduced in 2009 and included the death penalty for "aggravated homosexuality."
Mark Patro, head of the Baltimore County chapter of Parents, Families & Friends of Lesbians and Gays (PFLAG) and the chief organizer of Light Brigade Maryland, said one of Light Brigade's members suggested that the group – who helped rally support for Question 6, the measure that secured marriage equality in Maryland, with similar illuminated actions – should use its methods to help send a highly visible message to passerby about the situation in Uganda.
"D.C. and Maryland are rather liberal places where we've got protections for gay and lesbian people," said Patro, a Perry Hall, Md., resident, citing the embassy's location on a D.C.-Maryland traffic corridor. "Gay and lesbian people need to have protections in every country around the world, wherever they live. They shouldn't need to come here in order to have protections, especially with issues as strict as the death penalty."
Patro said he believes D.C. residents are a little more politically attuned to what is happening in Uganda than people he knows in Baltimore, but hopes that the protest will spark interest around the bill so that it can be defeated.
"Bringing this to the street and lighting it up in front of the embassy [of the nation] that's responsible for this legislation is what takes this message to social media and paper media," Patro said. "That was part of our goal."
David Snead, the partner of GetEqual DC organizer Charles Butler, said he attended the protest to generate awareness among residents of D.C. in Maryland, because even in the District the issue has largely gone under the radar.