Jane Siberry isn't your typical pop singer/songwriter, so why would her live show be any different? "It's quite unusual, or that's what people tell me," the Canadian artist says, who appears at Hamilton Live this Friday, Dec. 14. "It's sort of a mixture of fast-paced storytelling and songs — I cut in and out of songs halfway through [each]."
That quirky, theatrical approach is partly based on a trilogy of albums weaving a central story, through song and spoken word, about "Three Queens," which she completed last year. But it's also "a reflection of people's interest and attention span," she says. She alters her live show depending on the "energy" she feels from the crowd. "Basically, if I see anyone look at a text message, I do something," she says, meaning she stops a story, or starts a different song. "When someone does that, it really changes the energy in the room, I find."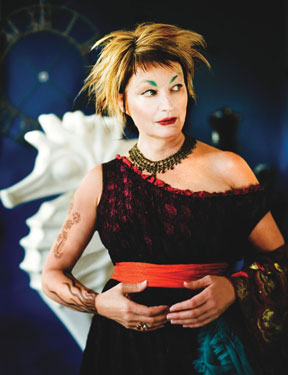 Jane Siberry
Siberry came to fame in her native Canada making electronic art-pop in the '80s, work that eventually led her to collaborations with fellow eccentric artists such as Brian Eno and Peter Gabriel. She has also recorded with the Indigo Girls and k.d. lang, whom she toured with last summer. lang also covered Siberry's "The Valley" and "Love Is Everything" on her stunning album last decade Hymns of the 49th Parallel.
Given her penchant for experimenting with musical theory and technology, it's no surprise to learn that Siberry grew up in Toronto more fascinated by science than art and music. "Science was amazing. It blew my mind," says Siberry, who eventually earned a microbiology degree. To this day she remains captivated by science, specifically computer technology, and how it relates to her work as a full-time musician.
Science even informs her live show, whose choppy but steady flow is designed on the scientific principle of a square wave, as opposed to a more typical concert's sign wave. "The energy of the show goes up and sort of stays up," she explains, "as opposed to going up and down, up and down, up and down, with [a couple] three-minute songs and a bit of talking [in between]." — Doug Rule
Jane Siberry puts her sign-wave theory into practice Friday, Dec. 14, at 8:30 p.m. The Hamilton, 600 14th St. NW. Tickets are $33. Call 202-787-1000 or visit thehamiltondc.com.