Right now, there are surprise gifts in store for everyone at Signature Theatre.
"We're going to put songs in stockings," explains singer Bobby Smith, "and let the audience choose what stocking they want." As a result, Smith and his cohorts – Eleasha Gamble, James Gardiner and Rachel Zampelli – have been brushing up on songs as far flung as "Frosty The Snowman," done in a barbershop-quartet style, and a new holiday song by young composer Adam Gwon. Not to mention the Hanukkah staple "Ma'oz Tzur." "I'm learning Hebrew just in case," responds Smith. "The holiday follies are for everyone."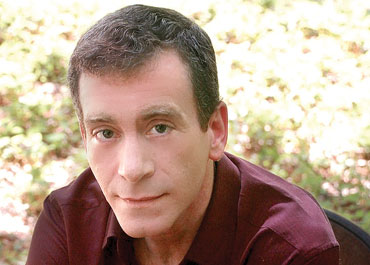 Bobby Smith
(Photo courtesy of Signature Theatre)
The 48-year-old native of Blacksburg, Va., has made the D.C. region his home for a decade now after stints living and performing in New York and Los Angeles. Openly gay his entire career, Smith regularly teaches acting and dancing classes at various local venues in addition to his theatrical work, which includes helping direct shows such as Cinderella, now at Olney Theatre Company and Our Town next month at Ford's Theatre. "The community here is very rich in the arts," he says. "So it gives one the fantastic opportunity to make your living in the arts." Smith will also sing with Cheyenne Jackson when he performs with the NSO Pops on New Year's Eve at the Kennedy Center.
While this is his first Holiday Follies, Smith is a regular at Signature, starring in other cabarets and musicals, including this season's forthcoming production of Stephen Sondheim's Company. Smith will play the character of Peter, not the lead, also named Bobby.
Smith tried to use Robert as his professional name when he first started in the business. "[But] there could only be one person in the [actors] union with that name," he explains. "I tried every other name…and the only one that was available was Bobby Smith.
"I didn't know if it was a good thing or not," he continues, "but you can't say that people don't remember the name." — Doug Rule
Holiday Follies runs to Sunday, Dec. 23, at Signature Theatre, 4200 Campbell Ave., Arlington. Tickets are $41 each. Call 703-820-9771 or visit signature-theatre.org.