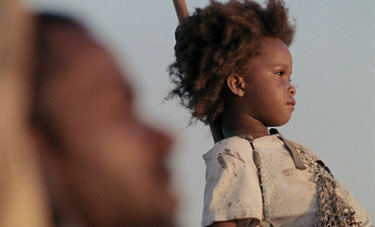 Beasts of the Southern Wild
Don't be discouraged by Hollywood schlock — we're living in a wonderful age of film. Even if there were a few duds in the last twelve months, several ambitious movies stood out for daring to try something new. The movies I appreciated the most this year varied in style, story, and substance, but they all served as a reminder that great films still matter — no matter the genre.
The Best
1. Beasts of the Southern Wild — Benh Zeitlin's debut feature is beyond impressive. Brought to life by a Louisiana-based art collective, Beasts imagines life in The Bathtub, a fictional Bayou shantytown that's been forgotten by the world. A cataclysmic storm devastates it all, though, throwing a wild-haired young girl (Quvenzhané Wallis), and her father (Dwight Henry) firmly against the modern society they've spent years shaking off. Beasts is magical realism at its finest, a fiercely independent film that brilliantly harnesses the bold, enchanting power of a child's imagination.
2. The Master — Even for director Paul Thomas Anderson, The Master is a doozy. A historical drama inspired by the life of Scientology founder L. Ron Hubbard, this film is a magnum opus of conflict. Like some of Anderson's past work, The Master concerns itself with perverting the relationship between a man-child and the father figure who adopts him — this time, it's an alcoholic World War II veteran (Joaquin Phoenix) and a cult leader (Philip Seymour Hoffman) — and it does so with a methodically unsettling style. The Master is an incredibly challenging movie, and as a result, it's easy to wave off its brilliance as artistic arrogance. Don't succumb to the temptation.
3. Cabin in the Woods — Joss Whedon and Drew Godard's horror satire is the best thing to happen to the stale genre in years. Think Evil Dead meets Scream, magnified a dozen times over in a bloodbath so steeped in film history that it repurposes clichés into delightful critiques. It's not about a group of college kids who spent a weekend in a creepy cabin in the woods. It's a clever interrogation of what scares us, where our monsters come from, and why horror falls back on the same tropes again and again. Cabin in the Woods is smart and scary, self-aware and compelling — everything that most horror movies are not.
4. Lincoln — Surprisingly enough, Steven Spielberg's wonderful film about our 16th president isn't a war epic or a maudlin biography. The film only follows Abraham Lincoln (Daniel Day-Lewis) for a few months amid his political efforts to outlaw slavery, and yet, it's an emotionally satisfying depiction of an American legend. Lincoln is Spielberg and Day-Lewis at their finest. And, reassuringly, it's also a reminder that Hollywood can, and should, make more than award-baiting treacle and big-budget sleaze.
5. How to Survive a Plague — Although it slipped under the radar, David France's How to Survive a Plague is a tremendously important film. The documentary tells the story of the AIDS Coalition to Unleash Power, an aggressive gay-rights advocacy group that spontaneously came together at the nadir of the AIDS crisis in 1987. France, an investigative reporter who has spent decades covering gay-rights issues, combed through hundreds of hours of footage to weave together the group's history. It's an inspiring method of storytelling that keeps attention toward the filmmakers — the original ones who filmed on camcorders during ACT UP's rallies and demonstrations — and carries with it their righteous outrage. If you care about gay rights, civil disobedience, or social activism, see How to Survive a Plague. It's a history lesson that boils with indignation.
6. Moonrise Kingdom — Wes Anderson's warmest film is joyously immature. Rather than focus on emotionally damaged adults — see: Anderson's last four features — Moonrise Kingdom is about a pair of odd, precocious kids who run away together while spending a summer on a New England island in 1965. The film drips with a whimsical sentimentality toward childhood, the likes of which we haven't seen from Anderson since Rushmore. It's a delightful return to his best, most colorful instincts.
7. Your Sister's Sister — Lynn Shelton's romantic comedy deserved so much better than the tepid release it got last June. This splendid, heartfelt story of a love-triangle between a distraught man (Mark Duplass), his dead brother's ex (Emily Blunt), and her lesbian sister (Rosemarie DeWitt) stands out precisely because it works in ways that few others ever do. It's sincerely funny, yet emotionally complicated. It treats its characters with respect, yet it doesn't hesitate to shack them up under the right circumstances. Don't make the mistake of missing it.
8. Haywire — Even for director Steven Soderbergh, Haywire was a gamble. For starters, the action flick stars mixed-martial arts fighter Gina Carano, whose only previous film credit was in a silly direct-to-DVD fight movie. It's also stripped down to only the essentials; it's lean and coherent without the frivolous sequences or special effects that plague the action genre. But, fret not. Carano proves her chops against a stellar cast that includes Michael Fassbender, Ewan McGregor, and Channing Tatum, while Soderbergh works his magic with clean direction and editing. Haywire is unlike any action movie I've ever seen.
9. Looper — There's no such thing as a time-travel movie without plotholes. Yet, Looper sidesteps the challenges of its premise by doing something few other films would — it admits it doesn't care. Writer-director Rian Johnson's slick, charming thriller doesn't explain how or provide phony science to explain how a man (Bruce Willis) can meet his younger self (Joseph Gordon-Levitt). Instead, it brushes aside the technical mumbo-jumbo to explore the deeper moral implications of time travel. It's a tight, satisfying sci-fi movie with a surprising amount of heart.
10. The Queen of Versailles — A documentary about billionaire David Siegel's quest to build the largest house in America at the height of the housing crisis, The Queen of Versailles is an infuriating, fascinating profile of extreme luxury and hubris. Although this is far from an apolitical movie, director Lauren Greenfield effortlessly tiptoes between compassion and criticism for her subjects in a way that challenges the occasionally crude ways we think about the wealthy. You won't necessarily root for the Siegels, but you may be surprised to find yourself relating to them.
The Worst
1. The Paperboy — It's inexplicable how director Lee Daniels tricked people into believing that The Paperboy is anything but a hot mess. His tawdry, sanctimonious adaptation of a Pete Dexter novel isn't a bad movie — it's barely a movie at all. It bundles loosely related moments of severe sexuality into a lurid murder mystery solely for the sake of watching Zac Efron and Nicole Kidman tramp around in their underwear. Too earnest to be camp, but too ridiculous to be taken seriously, The Paperboy is nothing more than the artistic parallel of its most infamous scene, when Kidman pees on Efron. It's the golden shower of movies.
2. Atlas Shrugged: Part II, The Strike — Want to convince someone that Ayn Rand was a hack? Tell them to watch this.
3. Prometheus — In a vacuum, Prometheus is not a terrible movie. When coupled with expectations, though, it's the most disappointing film of the year. Ridley Scott's Alien prequel-that-wasn't-but-really-is-after-all is pockmarked with narrative inconsistencies, unbelievable characters, and a masturbatory devotion to mythology. Great moments stand out — most notably, the gorgeous cinematography and Michael Fassbender's performance as an android — but it falls so, so short of its transcendent predecessors. Perhaps that's why Scott was so reluctant to call it a prequel.
4. Rock of Ages — Most musical adaptations are terrible, but Rock of Ages holds a special place in my heart for its unique brand of failure. By passing itself off as nothing more than an ensemble of celebrities singing lame hair metal, its aspirations were absurdly low to begin with. And yet, it still failed to meet its own standards, thanks to cringingly manipulated vocals, a wretched joke that was more homophobic than funny, and a supposed romance that had all the warmth of a days-old microwavable dinner. Nothing about this rocks. Nothing.
5. Albert Nobbs — Every night, I pray that my nightmares about Glenn Close's gender-bending trip to the uncanny valley will end.