"Because my teacher knew that I could handle the higher notes," says singer-songwriter Ari Hest, "he would stick me with the girls sometimes, or with the tenors, depending on the thing that we were singing."
But Hest is not a tenor and doesn't generally sing in falsetto. In fact, the most striking thing about Hest's gripping voice is its depth and intensity, and how it stands out from the typical male singer in pop or folk today. More of a bass in a Bronx high school with too many basses, the 33-year-old's range now is chiefly baritone – well suited to heavier sentiments about life and love than the average.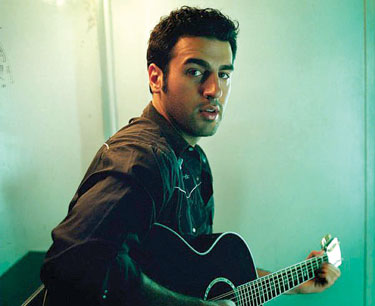 Ari Hest
(Photo by courtesy WJ Cuorg)
"I guess I identify more with the struggle – whatever the struggle is – in music," he concedes. "Not to compare myself to Leonard Cohen, but you know that kind of voice, generally, you think of some kind of weighted song coming from a voice like that."
A professional singer-songwriter for nearly a decade, Hest returns to the Barns at Wolf Trap on Saturday, Jan. 5, for the venue's first concert of 2013. The concert is in support of his new album The Fire Plays, of which he's especially proud. "It's just better done, from top to bottom," he says. "My albums in the past had good songs, but they weren't really as cohesive as this one."
Hest is willing to take the crowd at Wolf Trap on a trip down memory lane – all the way back to a Teenage Mutant Ninja Turtles childhood. "I never saw a dime from it [and am] still a little bitter," jokes Hest, about his toddler years singing ad jingles for various companies written by his father. "I guess if pressed," he continues, "the Mutant Ninja Turtle [ad] is kind of easy to remember because it was actually just a spin-off of the main theme." — Doug Rule
Ari Hest performs Saturday, Jan. 5, at 7:30 p.m. 'The Barns at Wolf Trap, 1635 Trap Road, Vienna. Tickets are $20. Call 877-WOLFTRAP or visit wolftrap.org.