I must confess: I've never seen Les Misérables onstage. Until a few weeks ago, when I finally threw myself into all things Schönberg, Javert and Valjean (at last!), I hadn't the faintest idea what the musical was about, or why it's been a Broadway dynamo for a quarter-century. Thanks to director Tom Hooper's awed, grandiose and exceedingly bombastic adaptation, I'm beginning to understand.
Hooper hasn't made a run-of-the-mill musical, as you might already suspect. This is his bold attempt to make the definitive version of Les Misérables, and as a result, it's one of the most earnest films made in recent memory. (Even more so than last year's Oscar-winning treacle The King's Speech, another Hooper film.) There's nothing too over-the-top or too momentous in this behemoth. It's a massive, bold, shamelessly ambitious crowd-pleaser that hoists itself to an almost scandalous level of congratulation. It lives and dies by its arrogance.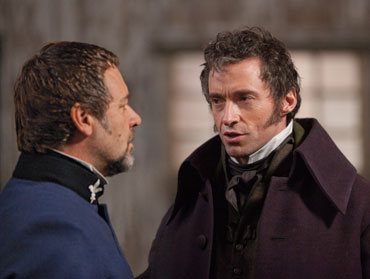 Les Misearable: Crowe and Jackman
(Photo by Lauri Sparham)
Les Misérables, in the most basic way, is a tragedy that pits the moral argument for forgiveness against a pragmatic one for justice. Jean Valjean (Hugh Jackman), a man imprisoned for 19 years after stealing a loaf of bread, breaks his parole and adopts a false name to restore modest dignity to his life in 19th-century France. Jackman's Valjean is a man humbled with piety, teeming with a melancholy goodness. His nemesis, Inspector Javert (Russell Crowe), pursues him with such unwavering fervor that the hunt consumes both men's lives for more than a decade — a time during which Valjean promises to raise the bastard daughter of a factory-worker-turned-prostitute (Anne Hathaway), Parisian youths arm themselves for the June Rebellion, and the whole of the city seems poised for another revolution. Less memorably, perhaps — and under Hooper's direction, with more than a bit of effort — Les Misérables is also about the romance between Valjean's adopted daughter Cosette (Amanda Seyfried), and Marius (Eddie Redmayne), an affluent revolutionary who falls for her at first glance. Their passion is an oddly bloodless one, with Seyfried and Redmayne cooing and pawing at each other like teenagers in an abstinence video. Luckily, their relationship is dominated by the larger, more compelling conflicts that orbit it.
Of course, anybody can get romance or tragedy out of Les Misérables by slogging through Victor Hugo's epic novel. People flocked to the theater — and now, they'll flock to another sort of theater — to hear Hugo's story sing. And man, this ensemble sure can sing. Hooper's film, perhaps more than any other modern musical adaptation, captures the spirit and emotional power of a staged vocal performance. His stroke of genius? Every actor sang live, on set, as each scene was filmed, the same way musicals did it decades ago. No dubbing audio tracks, no re-recordings in a studio, nothing but the actors practicing their craft under some of the highest stakes imaginable in mainstream film. Hooper clearly knew that he struck gold, too; his camera swoops in tight and shallow whenever an actor settles into a solo number, canted harshly upward with a meddlesome reverence for what he's filming. It'd be creepy if it weren't such a compelling way to frame splendid acting.