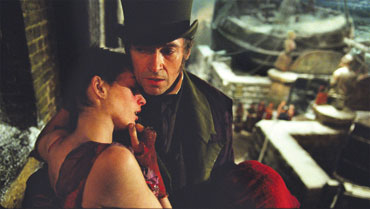 Les Miserables: Hathaway and Jackman
The live-singing method yields some brilliant performances, most famously with Hathaway's spectacular rendition of "I Dreamed A Dream." Hathaway manages to strip the tired, melodramatic ballad down to a mournful, moving eulogy to a wasted life — which all but guarantees her an Oscar for the performance. Redmayne surprises with a strong tenor — and showcases his emotional and vocal range with a heartfelt performance of "Empty Chairs at Empty Tables." Jackman straddles the demands of a leading man and showstopping vocalist in all those odd, wonderful ways that Hugh Jackman can manage to pull off. Even Crowe's tight, wheezy vocals aren't a total disaster!
Yet among that impressive crowd, Samantha Barks stands out as Éponine, a destitute girl tragically smitten with Marius. If you don't know her name yet, you will very soon. Barks previously played Éponine in the West End; on screen, her pedigree reveals itself again and again. To my ear, it doesn't get much better than Bark's lilting, plaintive rendition of "On My Own," the highlight of her criminally few appearances.
LES MISÉRABLES




Starring Hugh Jackman, Anne Hathaway, Russell Crowe
Rated PG-13
157 minutes
Opens Dec. 25
Area theaters
That's the plight of this ensemble musical, unfortunately. Onstage, Les Misérables typically lasts around three hours; Hooper's version clocks in only 20 minutes shorter, and yet, it feels uncomfortably paced. The less energetic numbers fold into one another at breakneck speed — and when they don't, a lull of expository singsong dialogue sets off a severe case of musical fatigue. What saves Les Misérables, ultimately, are its famous, crowd-pleasing numbers. "One Day More" may be the only point in the film where the ensemble fits together neatly. When Hooper's theatrics begin to drag, Sacha Baron Cohen and Helena Bonham Carter deliver much-needed comedic relief by way of "Master of the House" and its goofy ode to deception. It's during these moments — when Hooper decides to set his already-ambitious gaze even higher — that he comes closest to making the movie he so desperately thinks he made.
Les Misérables is not the definitive version of this musical, however. It never could be. It's a worthy adaptation, to be sure, but it's still shaped by the demands and contours of film. Even without seeing Les Misérables onstage, I have no doubt the theatrical production affects audiences in ways that Hooper's film simply cannot. This is far from a disappointment. It's just not the best.