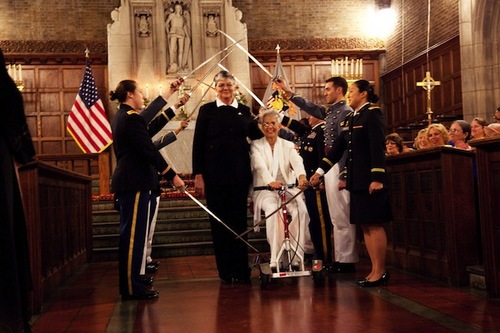 The historic chapel at West Point hosted its first same-sex wedding Saturday, marking a first for the military academy only made possible in the wake of the repeal of "Don't Ask, Don't Tell" and New York's legalization of marriage equality.
Sue Fulton and Penny Gnesin exchanged vows at the Cadet Chapel during the 2 p.m. ceremony on Saturday. Fulton, who is a graduate of West Point and an Army veteran, serves on the board of OutServe-SLDN.
"West Point holds special significance to both me and Penny," Fulton said in a statement. "From the time I was a cadet, what West Point stands for – integrity, leadership, selfless service – have been my touchstones. When Penny and I worked on ending 'Don't Ask, Don't Tell,' we kept coming back to the core value of integrity, and that's what made a difference. To be able to legalize our union here, especially at the Cadet Chapel, is really important to us."
Fulton, 53, and Gnesin, 52, met in 1995. Although they held a commitment ceremony in 1999, their vows held no legal significance. Fulton proposed over the summer, stating she "just didn't want to wait any longer."
In a statement from the newly named executive director of OutServe-SLDN, Allyson Robinson said the ceremony sent a powerful message to LGBT servicemembers everywhere.
"It sends a clear message that we, too, are part of the 'Long Gray Line' of graduates and that we will not back down until our families receive the same respect and the same benefits other military families do."
Although the wedding was a historic moment for the prestigious military academy, not all applauded the progress made by the military since President Barack Obama lifted the ban on out gay and lesbian servicemembers in September 2011.
During an appearance on his 700 Club program, anti-gay televangelist Pat Robertson said Generals Douglas MacArthur, Ulysses S. Grant and Robert E. Lee must each be "rolling over in his grave."
"What have they done to our cherished institution?" Robertson asked.
[Photo: Sue Fulton (left) and Penny Gnesin (Courtesy of Jeff Sheng).]