While Clark later dismissed those suits, another issue in contention was ownership of a plot in Congressional Cemetery intended to house Kameny's ashes. The plot was purchased by Helping Our Brothers and Sisters (HOBS), an organization dedicated to helping marginalized members of the LGBT community, which had also helped provide Kameny with financial assistance in his final years.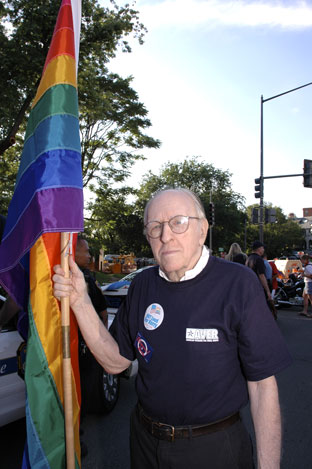 Frank Kameny
(Photo by File photo)
The Kameny estate argued that the plot, along with a military headstone and a stone gravesite marker reading "Gay is Good," also purchased by HOBS, needed to be transferred to the estate. That transfer appears to be stalled in a paperwork limbo.
Later in the year, Christopher Dyer – an LGBT activist, friend of Kameny, and who served as the head of the Office of GLBT Affairs under Mayor Adrian Fenty – attempted to honor Kameny by using his famous phrase "Gay is Good" to start a Facebook page titled "Gay is Good, Let's Make LGBT Great," which was intended to highlight the work of LGBT activists and community members around the District. The estate, however, advised Dyer Oct. 24, that it had trademarked the phrase "Gay is Good," and Dyer agreed to change the name of his effort.
The interment of Kameny's ashes remains on hold as the estate tries to resolve remaining legal disputes around the cemetery plot and other possessions of Kameny's.