In just over a year, the number of Americans who believe being gay is a sin has decreased dramatically, according to a poll conducted by a Southern Baptist research group.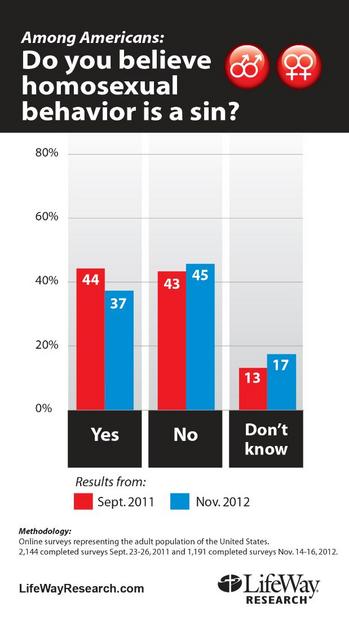 A LifeWay Research survey of 1,191 adults in November 2012 found 37 percent of Americans believe homosexuality is a sin, a seven point decrease from one year earlier. According to a similar survey conducted in September 2011, 44 percent of 2,144 respondents said they believe homosexuality is a sin.
The number who believe homosexuality is not a sin remained about the same, with 43 percent responding "No" in 2011 and 45 percent responding "No" in 2012.
Ed Stetzer, president of LifeWay Research, credited the dramatic change in public opinion to President Barack Obama's endorsement of same-sex marriage in May 2012.
"The president's evolution on homosexuality probably impacted the evolution of cultural values – there is a real and substantive shift, surprisingly large for a one-year timeframe – though this was hardly a normal year on this issue," Stetzer said in a statement.
The survey comes after a "watershed moment" for marriage equality at the polls on Election Day 2012. Three states — Maryland, Maine and Washington — approved same-sex marriage at the polls and voters in Minnesota rejected a measure that would have amended the state's constitution to ban same-sex marriage.
The release notes the breakdown of the November 2012 results:
The November 2012 survey also reveals Americans in the South (40 percent) are the most likely to select "Yes" to the question "Do you believe homosexual behavior is a sin?" as are Americans who attend religious services at least about once a week (61 percent), and those calling themselves "born-again, evangelical, or fundamentalist Christian" (73 percent).

Americans who never attend religious services are the most likely to say they do not believe homosexual behavior is a sin (71 percent).
According to Stetzer, "The culture is clearly shifting on homosexuality and this creates a whole new issue: How will America deal with a minority view, strongly held by Evangelicals, Catholics, Mormons, Muslims, and so many others?"
Yesterday, the Rev. Louie Giglio, previously tapped to deliver the benediction at Obama's second inauguration, withdrew from the ceremony due to criticism of an anti-gay sermon he delivered in the mid-1990s.
In a statement, a spokesperson for the Presidential Inaugural Committee said they were unaware of Giglio's previous statements.
"Pastor Giglio was asked to deliver the benediction in large part for his leadership in combating human trafficking around the world," the spokesperson said. "As we now work to select someone to deliver the benediction, we will ensure their beliefs reflect this administration's vision of inclusion and acceptance for all Americans."
[Image: Poll breakdown (Courtesy of LifeWay Research).]