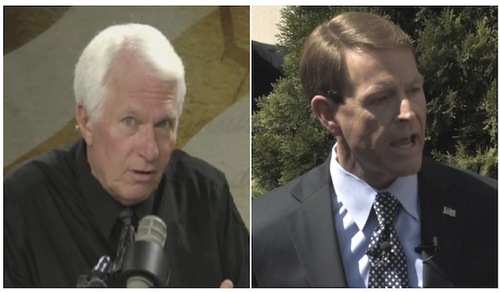 Supporters of the ban on gay members and leaders in the Boy Scouts of America are mobilizing after news that the organization is considering lifting the longstanding ban.
In a mass email "Alert" sent Monday after NBC News reported the 102-year-old organization is reconsidering the ban, the anti-gay Family Research Council urged supporters to contact the BSA to urge them to uphold their ban on out gay members and leaders.
"For decades, the Boy Scouts of America (BSA) have heroically withstood attacks from homosexual activists. Now, officials from the organization have indicated that this may be about to change," wrote FRC President Tony Perkins. "A departure from their long-held policies would be devastating to an organization that has prided itself on the development of character in boys."
In an interview with Perkins on Tuesday, John Stemberger of the Florida Family Policy Council said ending the ban would "open the door and allow openly gay leaders and boys to flourish."
"There are so many young people today in high school and public school especially who are acting out homosexuality just because it's the popular and cool thing, so you're going to have lots of crazy stuff happening with boys," Stemberger told Perkins, according to Right Wing Watch.
The American Family Association also urged supporters to petition the BSA, writing in an alert to supporters, "If the BSA departs from its policies on allowing homosexual scoutmasters and boys in the program, it will destroy the legitimacy and the security of this iconic institution."
Appearing on his radio show yesterday, Bryan Fischer of the American Family Association said the BSA was on a "suicide mission" with its decision to explore lifting the ban. Fischer repeated an argument long waged by supports of the BSA's discriminatory ban, falsely claiming that lifting the ban on gay members and leaders would open the doors to pedophilia in the BSA.
"If I'm a dad, and I've got a young man — I mean there's no way in the world I'm going to take that chance," Fischer said. "You know, because we know that homosexuals offend against male children — male homosexuals offend against children at roughly ten times the rate that heterosexuals offend against young children."
In reality, numerous studies have shown no scientific basis for the argument that gay men are more likely than straight men to molest children.
The BSA has also faced a number of scandals involving sexual abuse, despite the discriminatory ban on gay youth. In September, the Los Angeles Times reported that for more than 20 years the group covered-up cases of child molestation. According to the newspaper, a review of 1,600 confidential files dating from 1970 to 1991 show that "Scouting officials frequently urged admitted offenders to quietly resign — and helped many cover their tracks."
Many cases of abuse are contained in confidential "perversion files" that date back to 1919. BSA lawyers have fought to keep the files secret, which "blacklist" alleged molesters from rejoining the group. The files show in more than 100 cases in a two-decade period the BSA actively sought to cover up allegations of abuse from police, parents and the public.
Although anti-gay advocates have argued that lifting the national ban on gay members would destroy the organization, some LGBT-rights advocates have said the decision being considered by the BSA's board of directors does not go far enough.
Indeed, if adopted, lifting the national ban would now allow local charters to decide if they will choose to exclude gay members.
"This would mean there would no longer be any national policy regarding sexual orientation, and the chartered organizations that oversee and deliver Scouting would accept membership and select leaders consistent with each organization's mission, principles, or religious beliefs," BSA spokesman Deron Smith said in a statement earlier this week. "BSA members and parents would be able to choose a local unit that best meets the needs of their families."
According to Freedom to Marry President Evan Wolfson, the news that the BSA may end just their national ban on gay members "is a reflection of how out of step the Scouts hierarchy had become with today's youth and the majority of Americans."
Wolfson argued on behalf of former Eagle Scout James Dale, who sued after he was expelled from the organization in 1990 for being gay, before the Supreme Court in the 2000 case that ultimately upheld the BSA's gay ban.
"Changing the policy would be a step in the right direction," Wolfson said in a statement, "but while an 'allow discrimination' local option is better than mandatory national discrimination, it still sends a harmful message to both gay and non-gay youth. The right answer is to be open to all boys, without discrimination, period."
The BSA's board of directors could vote on lifting the national ban as early as next week.
[Images: Bryan Fischer (left) and Tony Perkins (Screenshots courtesy of YouTube).]