Frank Nowicki says gay high school classmates of his still occasionally thank him for sticking up for them back then.
"I know you don't remember me," Nowicki recalls the not uncommon refrain, "but you were so cool. When [jocks] used to pick on me, you used to kind of get in the way, prevent them from really harassing me."
Nowicki, of course, was also gay – "I probably knew I was gay in grade school," he laughs – but he was spared bullying while a student in the 1970s at his Catholic school in upper Northwest D.C., Archbishop Carroll High School. "I was kind of like one of the popular people in my high school. I was friends with everybody," says Nowicki, who was active in a variety of things, from sports to drama to the honor society.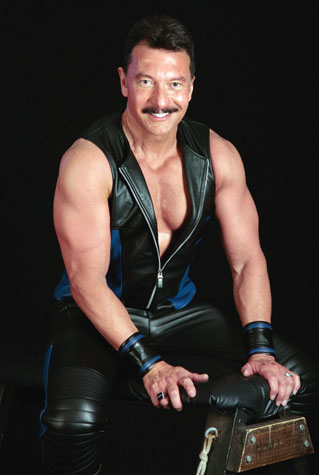 Frank Nowicki
(Photo by Ron Volanti / RJV Studios Chicago)
"You never know how you'll have an effect on somebody," he marvels as he recollects his many experiences. Certainly the 56-year-old has had a positive impact on many, from his high school's "sissy boys" – "people didn't call people gay back then" – to a great number of people he's interacted with ever since he officially came out at the first national gay-rights march, 1979's National March on Washington for Lesbian and Gay Rights. He was 21 at the time.
Twenty years ago Nowicki won the title of Mr. Mid-Atlantic Leather. Though he relinquished the title in 1994, he never really relinquished the stage. A natural in front of a crowd, the loquacious Nowicki has been the Mr. MAL contest's emcee pretty much ever since, and regularly serves as master of ceremonies for other leather events around the world.
"Frank's an icon," says Patrick Grady, chairman of the Mid-Atlantic Leather Weekend. "But he's an icon who's also a very wonderful friend, so full of life. [He's] a sweetheart, very caring and giving. And he's so funny. It's such a privilege to have him in our community."
Nowicki's community support goes beyond leather. Among other things, he also regularly serves as a judge for the Academy of Washington. In fact, he credits that storied local drag organization with essentially giving him the confidence and ease to take the stage. "They used to put on huge shows [with] big production numbers," he says, "[and] I used to sing a lot" [onstage]. "The Academy has always been like a family to me, just like the leather community."
Nowicki's actual family is part of the mix, too. He took his mother and a sister – just one of five younger siblings – to see the drag shows at the old Rogue nightclub the weekend after that first gay-rights march. His mom and dad aren't strangers to his leather community, either. In fact, his mother was in the audience when he won Mr. MAL. "She was actually one of the first mothers that came around," he says. "My mom's always been real, real cool."