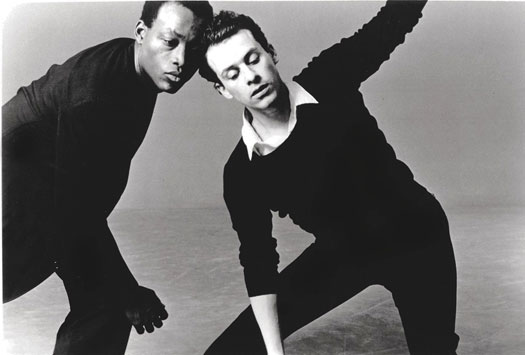 Bill T. Jones with Arnie Zane
(Photo by Louis Greenfield)
MW: Let's switch gears a bit. I wanted to ask you to reflect on your work on Broadway, from winning your first Tony your first time at bat, with Spring Awakening, to winning a second Tony, also for choreography, a few years later with Fela!, which you also co-wrote and directed.
JONES: In some ways I've had a really wonderful path into commercial theater. With Spring Awakening, I was shown great respect being an outsider on Broadway. They let me do things that did not normally happen on Broadway. [With Fela!, producer] Steve Hendel asked me to help write it and direct it and choreograph it, and he made every resource available to make the work that I needed to make. That was, people tell me, an atypical introduction to Broadway. And I respect it. I'm very, very pleased.
I'm now working on another show – I won't tell you the name of it, but it's also dealing with rhythm and blues in the '70s. With another producing team, with in some ways a more conventional producing approach. But nonetheless heartfelt, and they really want me to do something adventurous and exciting. We're hoping to make some money, because you know that's what it's about. And it's exciting that there are other projects open for me. Now, the problem is how do I make things like A Rite with my company, and at the same time pay the piper on the work-intensive Broadway work? That's one of the dramas in my life. Not to mention that I'm executive artistic director of a downtown performing arts space called New York Live Arts, which is a re-imagining of the historic Dance Theater Workshop and Bill T. Jones/Arne Zane Dance Company. That's three fronts – all of them demanding, and all of them rewarding. So, stay tuned.
MW: Any sense of when that next Broadway production you mention might see the light?
JONES: Well, I hope that we're ready to go by next season. I hope that we're able to – the show's going to be going to its final rehearsal in the development phase in June. We'll work on it throughout the summer and into the fall. We'll reconsider it, and then probably open somewhere in the late winter or spring next year. Now, that's what we hope. Let's not jinx it. But that's what we hope.
MW: So in the next couple years at least.
JONES: Oh, yes. Hopefully in the next year actually.
MW: The success on Broadway has also offered you even wider, national recognition, such as a guest appearance on The Colbert Report in 2009, promoting Fela! That must have been a trip.
JONES: [Laughs.] That was a singular night! It was quite fascinating. It all went so fast. I've never done that show. Stephen Colbert's people told me, "Look, don't try to compete with him being funny. This is what he does." And that was very good advice. He's outrageous, but he was very respectful of us and Fela!
MW: And you pulled it off with aplomb, at least from a viewer's perspective. You held your own.
JONES: Yeah. And another one like that is Bill Maher. I had been on Maher's show when it was called Politically Incorrect, and now and again. Both of those guys are kind of heroes to me, with what they take on.
MW: Ten years ago, could you have imagined your work on Broadway, even going so far as co-writing and directing a musical?
JONES: Well, 10 years ago was almost when Steve Hendel first brought the Fela! idea to me. But hmm, no, at that time, it was all kind of a lark. It was, why not? You've tried this, you've tried that. Let's give this a try. But don't give too much of yourself to it. Which is impossible. I give 100 percent to everything that I do. But let's just see – let's play at it. Don't lose yourself in it.
MW: But do you feel like, even with all your commercial success, particularly on Broadway, you've managed to maintain your own individuality and integrity? Do you feel like you've sold out in any way?
JONES: Well, I don't know what "sold out" actually means. I am kind of hard-headed. And I have a lot of baggage that comes with me. And anybody who works with me knows there's a lot of baggage, and I have a history. I am very visible as a gay man, I'm very visible for things that I have made. And so if a producer asked me to do something, they certainly know something about what they're getting. My goal is to surprise myself, and not get into battles about everything that I do. I have this belligerent, "don't tell me what I can do" attitude. It's not an easy ride. I keep trying to find the way to make the best work I can make – not an embarrassment. And by the same token, to make some money – for myself and my producers. I think they deserve it.
MW: Are there other big things you're working on, ways you're striving to surprise and challenge yourself anew?
JONES: Right now, the company opening at the Joyce Theatre in New York in April. It's going to be two evenings, all built around music. We're going to be working with a wonderful quartet, the Orion String Quartet, the Lincoln Center chamber orchestra. And we will be doing musical works that go back probably 15 years, maybe even more. That's very exciting because we'll have live music at all of those.
I'm planning even deeper into the future. There are things that come at me every day, but it would be immodest to be playing them all out. I'm planning at least two musicals stretched over the next 10 years of development. And the company always needs to be fed. New works, new ideas. The next thing the company does will be something that could very well be a play that I have been given, that has dance in it, about George and Martha Washington. But once again, well, I'm sure you'll hear about it.
A Rite is Friday, Feb. 8, and Saturday, Feb. 9, at 8 p.m.,
at Clarice Smith Performing Arts Center's Kay Theatre, University of Maryland, University Boulevard and Stadium Drive, in College Park. Tickets are $50. Call 301-405-ARTS or visit claricesmithcenter.umd.edu.
Fela! 'runs to Feb. 10, at the Sidney Harman Hall, Harman Center for the Arts, 610 F St. NW. Tickets are $25 to $130. Call 202-547-1122 or visit shakespearetheatre.org.
For more information about Bill T. Jones/Arnie Zane Dance Company or New York Live Arts, call 202-691-6500 or visit newyorklivearts.org.