Hailing from the Baltimore suburbs, 19-year-old Matt loves the water. He's been swimming for 15 years, today working as a private swim coach and lifeguard on the side. A student at Kent State University in Ohio, Matt is majoring in musical theater with a minor in communications. When he's not hitting the pool or the books, Matt likes dancing, going out to clubs, cooking and travel. Ever the typical Sagittarius, Matt prefers spontaneity and adventure to an orderly routine. He doesn't have a boyfriend, but says he's "perfectly happy doing what I want." Potential suitors will find this is one man who doesn't like being anchored down.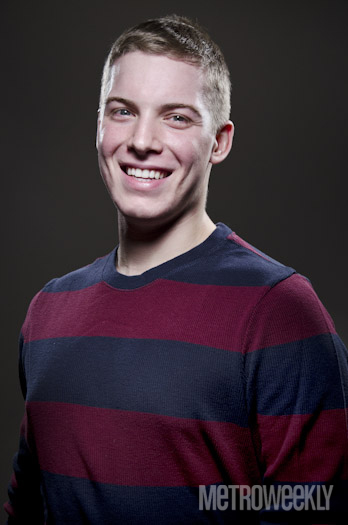 Coverboy: Matt
(Photo by Julian Vankim)
What's on your nightstand?
A Starbucks gift card, a framed photo of me and my best friend, an alarm clock and my iPhone.
What's in your nightstand drawer?
There's no drawer, but underneath I have a pillow.
Where do you keep the condoms and lube?
In my desk drawer, right next to my rainbow duct tape.
What are your television favorites?
American Horror Story, Buck Wild, and the Food Network.
What was your favorite cartoon when you were a kid?
I liked Scooby-Doo. I really liked the Cartoon Network, The Powerpuff Girls and stuff like that.