Call him the MacGyver of the gay world. Armed with only a passport and his self-confidence, U.K.-born Nigel loves seeking out new, exciting activities and can adapt to changing situations on the fly. A human-resources director by day, Nigel has a vibrant social life at night. Holding the title of Mr. DC Eagle 2013, this 38-year-old says his main platform is making the DC Eagle and the leather community accessible to everyone. In between helping raise money for Whitman-Walker Health – his charity of choice – and preparing for the International Mr. Leather (IML) contest in Chicago in May, this Mr. DC Eagle is an avid runner and fitness buff, having competed in 10 marathons, three triathlons and several other races.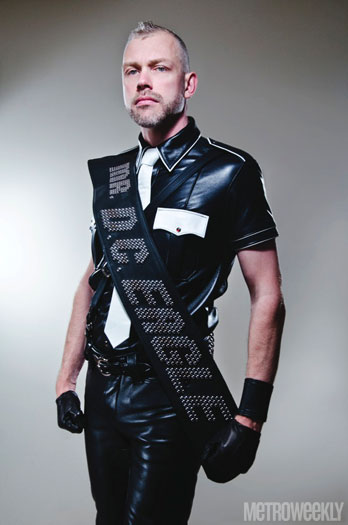 Coverboy: Nigel
(Photo by Julian Vankim)
What's on your nightstand?
A lamp and my iPad.
What's in your nightstand drawer?
A box of cufflinks, lube and a pair of workout gloves.
What are your television favorites?
Dr. Who, The Rachel Maddow Show, and any witty, intellectual comedy.
What was your favorite cartoon when you were a kid?
This might be a little too British, but Danger Mouse.
What superhero would you be?
Superman. I had such a huge crush on Christopher Reeve when I was younger.
Who's your greatest influence?
My dad, and specifically his love of travel. He backpacked all across Europe. I've personally been all around the world. I don't need a lot of money to travel. I have no issue just showing up in a place. I'll figure my way around.