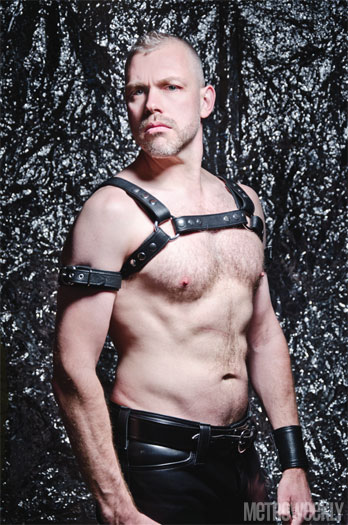 Coverboy: Nigel
(Photo by Julian Vankim)
What's your favorite retail store?
In the U.K., it's Next. In the United States, it's Guess.
What's the most you'll spend on a haircut?
$30.
What about on shoes?
I'm usually very frugal, but I did just blow $500 on a pair of Wesco Boss boots.
What's your favorite food to splurge with?
Sushi. I really enjoy it.
What's your favorite season?
Autumn. I love the fact that you can put on some layers, but still be out and about. It's the best time of the year for a runner, with a little nip in the air.
What kind of animal would you be?
A dog. Dogs are loyal and they love unconditionally. If I had a chance to be reincarnated, I'd come back as a dog to a committed gay bear couple. I could get fed, walked and spoiled rotten by my owners.
What kind of plant would you be?
I just don't have a green thumb. I even killed a cactus! So I'd have to be an evergreen or something that could survive.
What kind of car would you be?
I'm not a car person. But just for the British edge, probably an Aston Martin.
What are you most grateful for?
Great family, great friends and a life that never ceases to amaze me, with plenty of opportunities.
What's something you want more of?
Work-life balance. Another four hours in the day would be nice.
State your life philosophy in 10 words or less.
You only live once.