The DC Log Cabin Republicans, the District's top political organization for LGBT conservatives, unanimously endorsed DC Council candidate Patrick Mara Wednesday, ahead of an April special election for the at-large seat temporarily filled by Councilmember Anita Bonds (D-At-Large).
Bonds was named to the seat by the State Democratic Party as an interim replacement in accordance with D.C. election law after Phil Mendelson (D-At-Large) was elected Council Chairman in a 2012 special election that appeared on November's ballot. Mendelson had been appointed to the chairman position by his colleagues former Chairman Kwame Brown stepped down ahead of pleading guilty to a felony charge of bank fraud and a misdemeanor charge of violating District campaign finance laws.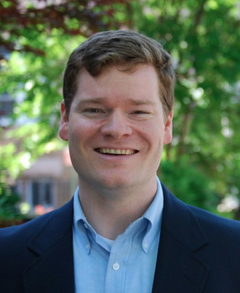 Mara, a pro-gay Republican and elected DC State Board of Education Member from Ward 1 who has run for Council twice before, spoke to DC Log Cabin membership at the group's monthly meeting Wednesday night, billing himself as a "fiscally conservative, socially progressive Republican" in the Northeastern Rockefeller mold.
Mara, who originally hails from Rhode Island and previously worked for the late U.S. Sen. John Chafee (R-R.I.), also touted his support of school reforms begun by former Chancellor Michelle Rhee and continued by her successor, Kaya Henderson, based on his experience on the State Board of Education.
Mara also stressed the need for ethics reform on the Council and promised he would speak out against corruption in D.C. government, saying that while some of his opponents would use his party affiliation to try and "scare" voters into voting against him, being elected as a Republican means he is not indebted to other councilmembers and can serve as a check on the power of a Democratic mayor and Democrat-dominated Council that has seen two members resign in disgrace and several other current councilmembers become the subjects of ethical or campaign finance investigations.
Mara first made headlines in 2008 when he defeated incumbent Councilmember Carol Schwartz (R-At-Large) in a primary in which Mara endorsed marriage equality while Schwartz – not to mention several Democratic members of the Council – hedged on the issue. Mara lost the general election to Independent Michael A. Brown, but the Council later approved a marriage bill in late 2009.
Mara ran again in an April 2011 special election to replace Kwame Brown after he was elected chairman. During that campaign, in which he also received Log Cabin's endorsement, Mara came 1,732 votes short of defeating current Councilmember Vincent Orange (D-At-Large). But Mara and DC Log Cabin's current president, Robert Turner II, both pointed out to those assembled that a number of registered Republicans failed to turn out in Ward 2 and 3, and that Mara, running as a pro-ethics and pro-school reform candidate, split the vote with interim incumbent Councilmember Sekou Biddle (D) and Ward 1 community activist Bryan Weaver, who garnered 20 and 13 percent of the vote, respectively.
This time around, Mara said, Biddle and Weaver won't be running, lessening the chance that pro-reform vote will be split. It's not a possibility that escapes Mara's opponents, either. One of the other 19 candidates for April's special election, Democrat A.J. Coooper, dropped out and endorsed fellow candidate Elissa Silverman, saying that he wanted to avoid splitting the Democratic vote to prevent Mara from getting on the Council.
"This election is more winnable than the two that I won," Mara told the Log Cabin members, referring to his primary victory and election to the State Board of Education. "It's great to have this endorsement. Log Cabin has always been one of the most helpful organizations of any organization, due to its manpower and the dedication of its volunteers."
The official endorsement allows Log Cabin to begin helping Mara fundraise and to dedicate volunteers to help circulate petitions to earn Mara a place on the ballot, host meet-and-greet events with D.C. voters of all political affiliations, phone bank and canvass as the campaign moves forward. Mara, who needs 3,000 signatures to qualify for the ballot, announced on his website that he has already submitted 4,360 signatures to the D.C. Board of Elections and Ethics, but says he will need help collecting more than 6,000, largely because of expected challenges that his Democratic competitors will lodge to try and knock him off the ballot.
Turner, speaking on behalf of the other Log Cabin members, pledged that the organization would dedicate the necessary resources and manpower needed to rally the GOP base in the city and get them out to vote so that Mara would be able to focus on convincing reform-minded Democrats and Independents to support his candidacy, particularly over his two main competitors, Bonds and Michael A. Brown, who was recently defeated by Councilmember David Grosso (I-At-Large) in the 2012 elections.
In addition to Mara's endorsement, Turner also used the meeting to confirm that he was recently appointed by Ron Phillips, the new chairman of the D.C. Republican Committee, as the organization's executive director, making Turner the first out gay man to serve as executive director of a state Republican party.
In an e-mail sent to Log Cabin members dated Jan. 10, Turner told them that he had informed Log Cabin's Board of Directors that he will be stepping down next month. The organization will hold a special election on Feb. 20 to appoint an interim replacement to serve out the remaining three months of Turner's term before its regularly-scheduled elections for board members and executive officers in May.
"I am very proud of my tenure as your president!" Turner said in the Jan. 10 email. "In nearly three years, I have more than doubled the membership of the DC Chapter, left the club on solid financial standing, help (sic) exert influence within the DC Republican Party and the LGBT community at large, and given us a greater voice within the gay media. I have every confidence that my successor will continue this trend."
[Photo: Patrick Mara (courtesy of candidate's official campaign site).]