The Lesbian and Gay Band Association, an international organization of LGBT bands, is offering an encore to its 2009 Inauguration Parade performance, again joining the festivities for this second inauguration of President Barack Obama.
Four years ago, LGBA made history, becoming the first LGBT group of any kind allowed to participate in the inaugural parade, said the group's vice president, Michael Tolliver.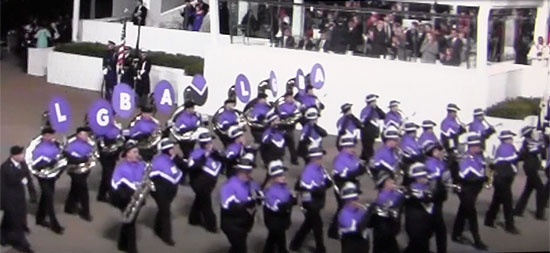 Lesbian and Gay Band Association
(Photo by via WhiteHouse.gov/YouTube)
"It's very important to us to be returning," Tolliver told Metro Weekly in an interview prior to the festivities. "It's a very moving experience, especially with this president. First of all, he did away with 'Don't Ask, Don't Tell,' and he's the only president to endorse same-sex marriage."
Tolliver said LGBA included more than 30 letters of support from various congresspeople and senators with its application to participate in the parade, and was among 50 groups to make the final cut out of nearly 3,000 applicants.
The LGBA parade contingent, comprised of 215 members representing 32 bands, including the District's LGBT marching band, D.C.'s Different Drummers, spent the weekend rehearsing its routine in Baltimore's Inner Harbor before jumping on a bus for the District around 5:30 a.m. this morning.
Tolliver also noted that the group has moved up in position from four years ago. In 2009, the band was in the middle of the fourth parade contingent. This year, LGBA marches in the middle of the third contingent along with various civil rights groups.
"The first time was quite a big deal," Tolliver said. "Never before were we in the parade. And now we've been invited twice in a row, and it's because of this president."