By June 2013 the Supreme Court's nine justices will determine the constitutionality of the federal Defense of Marriage Act as well as California's Proposition 8 in two decisions that could be just as sweeping in scope as halting to a movement "with the wind at its back."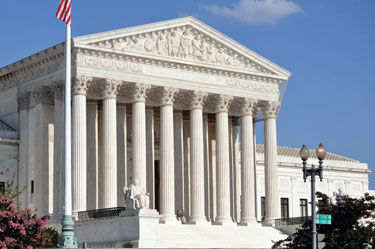 Supreme Court building
(Photo by Todd Franson)
Many suspect a favorable ruling in United States v. Windsor, which targets Section 3 of DOMA for denying same-sex couples rights and benefits enjoyed by straight couples.
However, the Supreme Court's decision to hear the Proposition 8 case, Hollingsworth v. Perry, could have groundbreaking ramifications in the fight for marriage equality.
Although the Supreme Court could rule narrowly, it could also rule sweepingly in a decision reminiscent to the 1967 decision in Loving v. Virginia, which declared that laws restricting interracial marriage violated both the Due Process Clause and the Equal Protection Clause of the 14th Amendment.
Should the high court take the sweeping route and make a ruling similar to that by the district court in 2010, constitutional statutes in states across the country prohibiting same-sex marriage could be rendered void. Such a decision would be not only be revolutionary, but the national declaration of support advocates have long sought.